Vendors Aim to Cut Costs in Core
Two announcements today typify a trend by equipment vendors to integrate DWDM and optical switching in carrier transport networks. The news raises questions about the distinctions among products and whether the time is right for any of them.
Innovance Networks
unveiled its first products this morning, dubbed AgileCore. These include a photonic switch and accompanying gear the startup claims will enable carriers to cut 70 percent of their current capital and operating costs (see
Innovance Gets Agile
).
Also today,
NEC Corp.
(Nasdaq: NIPNY) and
Tellium Inc.
(Nasdaq: TELM) jointly announced they are combining their technologies for a new transport product with similar claims to savings (see
NEC and Tellium Offer Switch
).
Both products will be shown at the upcoming
Supercomm 2002
trade show.
Both announcements are focused on how carriers can most efficiently add optical bandwidth to their networks. That involves two key issues: First is how best to combine the functions of optical switching with DWDM. The second issue has to do with the old bugaboo of electrical-to-optical conversion. Let's take a closer look.
Switching plus DWDM: Traditionally, switching and DWDM have existed in separate boxes, with the notable exception of Corvis Corp. (Nasdaq: CORV). Even in Corvis networks (until recently, anyway), amplifiers and transponders had to be set up step by step to enable specific wavelengths from the core of the network to be correctly assigned to edge gear.
Optical-to-electrical conversions: Reducing the number of these conversions in networks results in big savings in capex and opex. However, eliminating all of the electrical conversions isn't easy (and sometimes isn't desirable). It involves using switches with optical cores and eliminating electrical conversions between the switches and DWDM systems (see All-Optical Switching Tutorial, Part 1, page 3).


A range of established players and startups have applied different combinations of solutions to these problems (see
A New Optical Taxonomy
, pages 4, 5, and 6). Now, Innovance and NEC/Tellium have their own takes, to which they've added additional value propositions. Let's check each one out:
Innovance
Innovance has opted for a solution that pairs all-optical core switching with DWDM gateways equipped with tunable lasers, which are linked directly to edge switches and routers. Wavelength colors are assigned in real time by a network operating system that automatically chooses the best path through the network, based on capacity requests made by a net management system.
Innovance says this approach eliminates costs associated with signal conversion and regeneration, the bulk of which the startup says take place when the core is electrical.
It's the same proposition made by Corvis and others, but Innovance claims to be more automated than Corvis in its approach to assigning wavelengths to specific edge devices.
Corvis, for its part, says Innovance is dead wrong. A unified control plane, announced in March and available now, provides automated planning and provisioning, Corvis says. Tunable laser capabilities are set to be added next month.
Corvis also notes that Innovance can't provide any grooming of STS1 links in Sonet networks. Corvis has its own grooming switch that works under the same control software as its core switch (see
Corvis Goes Electric
). Innovance, in contrast, says it's strictly a core transport buy, and grooming is a job for the devices at the edge that get the benefit of the core capacity.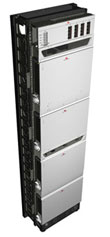 NEC/Tellium
It's no surprise that these two companies have finally gotten together.
Light Reading
picked up on the pairing earlier this year (see
Are Tellium and NEC up to Something?
). Now, the two say they've put a Tellium switch transceiver in one box alongside a DWDM transponder from NEC in order to create a transport switch with integral DWDM.
This approach combines optical switching and DWDM and eliminates the optical-to-electrical conversions between the two systems. But there's still an electrical core in Tellium's switch.
Many questions arise from the NEC/Tellium announcement. It's not clear, for instance, whether or not the NEC/Tellium box will feature grooming, which could provide at least one advantage over competitors such as Innovance. Right now, Tellium's box doesn't do sub-wavelength grooming.
Neither NEC nor Tellium returned calls today.
Both Innovance and NEC/Tellium face an even larger question: Isn't this a bad time to release such equipment -- when all leading carriers have stated their determination
not
to touch core hardware for at least another year?
Yes and no. Both are banking on the idea that carriers will need to extend their optical transport capacity within the foreseeable future.
Innovance, for instance, has geared its products to helping big carriers with their plans for 2003 -- when the startup says it hopes to gain "first mover advantage" among carriers that will be starting to upgrade core transport again, thanks to growing IP service requirements.
Innovance is already bidding on big-time long-haul RFPs (requests for proposal) with carriers such as
AT&T Corp.
(NYSE: T),
Qwest Communications International Inc.
(NYSE: Q),
Sprint Corp.
(NYSE: FON), and
WorldCom Inc.
(Nasdaq: WCOM). And word on the street is they're likely to be shortlisted, along with Corvis, for at least one contract within the next couple of months.
Other issues will also determine the fate of the products announced today. Innovance is still a startup, despite substantial backing and 310 employees (see
Innovance Scores $55M
). And questions are always raised about the ability of startups to influence big partners (see
Qwest Blows Hot and Cold on Startups
). Tellium has been around longer, and NEC is an established player with plenty of infrastructure to support any new products.
Another influence could be the availability of 40-Gbit/s interfaces on these new products, since the larger capacity could provide an incentive for carriers interested in future-proofing their core devices. NEC and Tellium don't mention 40-Gbit/s in their announcement. And Innovance says it won't be available on its products until sometime next year. Corvis says it will have 40-Gbit/s capabilities in the first part of 2003.
— Mary Jander, Senior Editor,
Light Reading
http://www.lightreading.com
For more information on Supercomm 2002, please visit:
Supercomm Special
EDUCATIONAL RESOURCES



PARTNER PERSPECTIVES
- content from our sponsors