Prices are falling in the hyper-competitive transatlantic submarine cable market, and one researcher says a group of carriers may be plotting to buy capacity just to keep prices stable.

A recent report by TeleGeography Inc. puts forth the rumor that a consortium of "major European and North American carriers" is looking to bulk-buy more than one terabit of capacity to "provide these carriers with a hedge against possible future price increases."

According to the report, "this consortium is requesting detailed information from trans-Atlantic submarine cable operators about their network architectures, operating and maintenance costs, and future costs of upgrade."

If the deal goes through, it could itself be the catalyst for a price hike. It's a simple case of supply and demand -- one third of lit capacity goes off the market and suddenly there's a lot less available for everyone else.

It could be the carriers are putting out feelers to see what the price would be in a market that's been seeing unsustainable 25 percent annual price drops, but "if this is a real sign, we could see the end of plummeting prices in the Atlantic," says Jason Kowal, an analyst at TeleGeography. "Price stability could come from so much capacity coming off the market."

The New York-to-London route constitutes most of the submarine capacity in the world, and rock-bottom prices have allowed smaller service providers into the market, making it fiercely competitive. But the rapid growth of international demand for bandwidth is starting to outpace supply, which has the cable operators rubbing their hands.

Kowal adds: "The market's been so hyper-competitive for so long, it would be nice for everybody to see an end to the bloodletting."

The rumored terabit purchase also raises the possibility of some extra business for vendors -- if one terabit of capacity suddenly disappears, "there's going to be a lot of upgrades," says Kowal (see Submarine Market Resurfaces).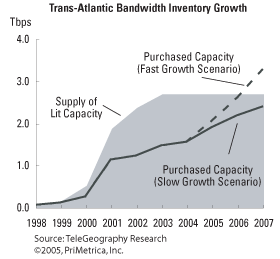 Even without such a deal going through, carriers are facing dwindling bandwidth inventories. As the chart above shows, the amount of purchased capacity could go from 1.7 Tbit/s in 2005 to around 2.3 Tbit/s in 2007 on the back of Internet and other data traffic, which is rising at a rate of around 60 percent on the Atlantic route.

With customers sending data like uncompressed HDTV signals across the pond, subsea cable operator Hibernia Atlantic confirms demand is on the upswing. "Bids have increased seven-to-10 fold in the past few years, and that's only going to get larger," says VP of sales and marketing, Eric Gutshall.

In fact, Gutshall says he's confident that pricing has hit bottom. "Current transatlantic pricing trends have afforded carriers the luxury to buy at will -- but lit capacity is running out. Demand to fulfill orders has now cornered carriers and suppliers into a 'build or buy' scenario as the seemingly ample supply is quickly being exhausted," he says.

Gutshall declined to comment on the consortium rumors, but acknowledged that "if and when things do take place" [nudge, wink] the cable operators could be sitting pretty. For any major purchase, "something special will require a special price. The dynamics of this market are rapidly changing -- and in favor of unique wholesale suppliers such as Hibernia Atlantic. We sit in a very nice position."

Hibernia Atlantic, indeed, is one of the operators that stand to benefit from the rumored carrier consortium purchase. Its cable runs from New York up into Canada, then across to Manchester in the U.K. and down into London. Other likely winners include Apollo Submarine Cable System Ltd., which is jointly owned by Cable & Wireless plc (NYSE: CWP) and Alcatel (NYSE: ALA; Paris: CGEP:PA), Videsh Sanchar Nigam Ltd. (VSNL) (NYSE: VSL), and FLAG Telecom Group Ltd. (OTC: FLHLQ), all of which run cable from New York into Cornwall in the U.K., then across to London.

Kowal at TeleGeography thinks it'd be interesting to see how the cable operators respond with pricing, as they also have to keep in mind what it would cost them to provision. But from where they sit, it almost doesn't matter if the consortium comes to fruition. Increasing bandwidth demand is ongoing, and carriers that have transatlantic networks are finding them a valuable asset for international expansion.

Case in point: VSNL, which recently picked up the Tyco Global Network, announced Monday that it is buying Teleglobe International Holdings Ltd. (Nasdaq: TLGB) for $239 million (see VSNL Completes Tyco Buy). VSNL says that its mergers will allow VSNL to cut costs at Teleglobe, by running its traffic over the Tyco Global Network infrastructure wherever possible. VSNL currently connects to just three countries in Asia, but Teleglobe will give it Internet infrastructure in 17 countries in North America, Europe, and further afield in Asia/Pacific (see VSNL Pays $239M for Teleglobe).

— Nicole Willing, Reporter, Light Reading