It's time for Light Reading's Top Ten Telecom Stocks list – a straight-to-the-gut take on what telecom and communications equipment stocks could blast off in 2007.

Here's what we were trying to find: (1) The stock should be, ideally, related to the telecommunications market, and (2) has a decent shot at going higher.

Of course, it's not easy to predict how Wall Street's whims will treat telecom. For example, we just saw a period, 2002-2006, which was a healthy bull market by most measures, but one that yielded mixed results in telecom. In 2005, with the broader market rallying, large incumbent service providers were the "Dogs of the Dow." Yet, in 2006, telecom service providers were the world's fair – they exploded higher, leading the market.

Can telecom continue to rally? It seems so. After the telecom bust, it's a subdued industry that is mostly drawn toward asset rationalization. Venture capitalists are no longer even very active in the space. So, in a contrarian sense, this lack of enthusiasm points to the potential for more gains. Supporting the market are several long-term trends:


Enormous growth in emerging market telecom networks, especially in mobile
Large demand for access bandwidth, including both fiber and wireless
A large-scale migration from copper fixed-line to fiber and broadband wireless
More efficient networks (and ongoing job cuts) will reduce costs
Consolidating carriers and equipment makers will make the industry more profitable
A reversion back to the "bigger is better" concept of the do-it-all carrier will yield stability
Relatively low investment expectations
With these trends firmly in place, we're set up for a decent year in telecom. So here are our top ten stock picks for 2007:

10) American Tower Corp. (NYSE: AMT)

American Tower makes, um, uh, towers. But not just in America – globally! Several of our top-tier, behind-the-scenes Wall Street sources – you know, the kind of people who live in faux-French mansions in Connecticut and whose hobbies include collecting celebrity lingerie and refurbishing antique Rolexes – say that this stock is "under accumulation," and for good reason.

With all this 3G, WiFi, WiMax, and other McWiNot flying around, don't you think the world will need more towers? We do. Here's a futuristic prediction we will make: A more wireless world will need many more wireless towers.

The numbers don't tell the whole story, because American Tower had been losing money for a while before it recently broke back into the black. But it's on the cusp of profitability for this year, and it's growing revenue at a 25 percent clip. That should give it a good earnings leverage now that it has turned the corner.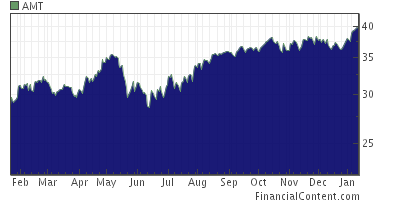 Market Cap: $16.96 billion
P/E (Forward 12 months): 15
Year-over-year Earnings Growth: N/A

Annual Dividend Yield: N/A

9) Tellabs Inc. (Nasdaq: TLAB; Frankfurt: BTLA)

Tellabs!? We can hear your reaction right now. To which we say: exactly. This stock has become so unloved and beaten down that it seems likely that much of the bad news is built in. And, on a valuation basis, it's getting cheap. It was recently trading at a enterprise value/EBITDA of 7, according to data provider Capital IQ, which might make it a tasty buyout to some bean-counters.

Recently Tellabs was hurt by the AT&T Inc. (NYSE: T) merger with BellSouth, which likely slowed down spending plans at BellSouth, where Tellabs gets a lot of dough. And certainly, there's some risk ahead in the BellSouth business, with AT&T now calling the tech shots. But we think the market knows this. And the way you make money on Wall Street is to find out what the market doesn't know.

What doesn't the market know? Well, quite simply with the stock priced under $11, folks will start to comb over Tellabs as a buyout candidate. Under $10, it gets even tastier. Tellabs still sells plenty of cross connects, even if it is taking its time getting its ROADM and GPON stories together. So look for institutional buyers to support the stock on sell-offs, when the value radar screens blink buy.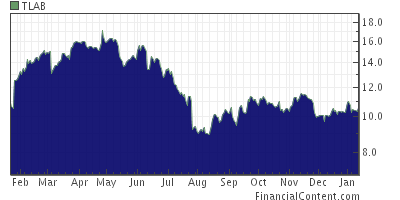 Market Cap: $4.44 billion
P/E (Forward 12 months): 19
Year-over-year Earnings Growth: 40%

Annual Dividend Yield: N/A
Next Page