Top Ten Movers and Shakers in Telecom

11/18/2003

Comment (67)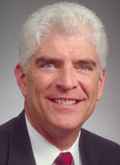 Well,
someone
had to fill Carl Russo's spot on the list, didn't they?
When Ron Martin in 2002 left
Fujitsu
's FNC division to work at
Cisco Systems Inc.
(Nasdaq: CSCO), a Fujitsu spokesman remarked the move was "completely voluntary." (See
Fujitsu's Martin Joins Cisco
.) Well, that's nice to know. At least Cisco doesn't yet have the power to
force
executives to work there.
It was a crafty hire by Cisco. Martin had worked big RBOC accounts for Fujitsu, which sells plenty of Sonet gear to the incumbents. Cisco figured Martin would give the Cisco ONS 15454 more credibility with the big telcos, which have traditionally resisted John Chambers's Southern charms and homespun discounts. Martin may have even had something to do with Cisco's defeat of his alma mater with the big deal at
BellSouth Corp.
(NYSE: BLS) (see
BellSouth Chooses Cisco (and Lucent)
).
Martin's arrival also closed the gap created by the departures of Don Listwin and Kevin Kennedy. In particular, Kennedy was trusted enough that, upon his departure,
SBC Communications Inc.
(NYSE: SBC) wanted his personal reassurance that Cisco's future plans were still on target, so the story goes (see
Cisco's Kennedy: Recruiter's Dream?
).
Not to slight Jayshree Ullal, senior VP of the optical networking group. But her forte seems to be new markets, whereas survival during the downturn means
crawling
to the old-boy network of telcos.
The question of whether Martin gets to the next level may revolve around a big optical networking contract at
Verizon Communications Inc.
(NYSE: VZ). Verizon has famously shunned Cisco's advances and is using Cisco's gear in a secondary role as a Sonet supplier, according to many sources. If Martin can muscle out Fujitsu and Lucent and earn some serious green for Cisco in North America's largest RBOC account, we'll give him four spots on our list.
Hell, maybe we'll even invite him over for cocktails at our oceanfront
timeshare
in Missouri.

(67) |