Top Ten Movers and Shakers in Telecom

11/18/2003

Comment (67)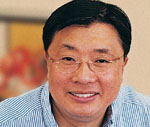 Mr. Lu – Who Knew? Under CEO Hong Lu's leadership,
UTStarcom Inc.
's (Nasdaq: UTSI) success in mainland China has been remarkable. Of course, having
China Telecommunications Corp.
(NYSE: CHA) as a major customer certainly helped the company see its products deployed in about 600 of the country's 2,400
local telecom bureaux
(see
UTStarcom Pumps Up PAS
,
UTStarcom Wins in China Yet Again
, and
UTStarcom Wins Big in China
). But Lu and his team were savvy enough to figure out that it needed to expand beyond China's borders. Indeed, the company projects that 25 percent of its sales will be outside of mainland China in 2003.
Then there's the phenomenal growth. From 2001 to 2002, when most public telecom companies had lost their luster, UTStarcom kept growing – revenues and gross profits grew more than 50 percent each, year-to-year, from 2001 to 2002. And, at last count, the company expects revenues for 2003 to be in the range of $1.80 billion to $1.82 billion (see
UTStarcom Profits, Revenues Growing
).
But the road ahead
won't be easy
for Lu. He's got to make sure Wall Street stays calm when it realizes that his company's sales growth probably won't continue at the same incredible pace as it has so far. He's also got to show the world that the acquisition of
3Com Corp.
's (Nasdaq: COMS) CommWorks division – a move that appeared more like something UTStarcom's Oakland, Calif. neighbor,
Zhone Technologies Inc.
(Nasdaq: ZHNE), would do – was not a mistake (see
3Com Completes CommWorks Sale
). He's got to turn that $100 million buy into some real carrier business here in North America, where UTStarcom is all but absent.
Lu is fluent in Mandarin, Cantonese, Japanese, and English, but will he have trouble speaking
Wall Street's language
? We don't think so. And that's why he's high on our list.

(67) |