Ferri Talks Only to Anderson...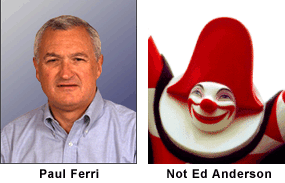 Wait, what's this? Two VCs from different firms? Yes. Ferri and camera-shy Anderson work for Matrix Partners and North Bridge Venture Partners, respectively. But in the tightly knit circle of Boston-area communications startups, they travel as a pair.

In fact, they have similar styles (stoic and tough, with a penchant for entrepreneurs with track records). It's all part of that clubby, Noreast thing. They're likely to swing some clubs down at the Andover Country Club, then do a deal with a former Lucent Technologies Inc. (NYSE: LU) engineer over some chowdah. They're both well connected to most of the top Boston-area startup legends, including Sycamore Networks Inc.'s (Nasdaq: SCMR) Desh Deshpande and former Wellfleet CEO Paul Severino. And they tend to be attached at the hip on the same deals. Been doing this for years.

For example, Matrix and North Bridge were the two largest investors (after founder Deshpande and CEO Dan Smith) in Sycamore Networks. Most of their deals start with talent coming out of the Massachusetts startup legends Cascade Communications and Wellfleet, both of which were funded by Matrix and North Bridge. A more recent crop of communications companies they have in common includes Argon (acquired by Siemens AG [NYSE: SI; Frankfurt: SIE]), Arrowpoint (acquired by Cisco Systems Inc. [Nasdaq: CSCO]), NetCore (sold to Tellabs Inc. [Nasdaq: TLAB; Frankfurt: BTLA]), Sycamore (IPO), Redstone (acquired by Siemens), Prominet (sold to Lucent) and Spring Tide (acquired by Lucent).

Last big hit: Sonus Networks Inc. (Nasdaq: SONS), the voice-over-IP switching specialist that went public in 2000 and whose stock has risen 269 percent from its IPO price. Sycamore, a Matrix and North Bridge investment, was a giant hit at the time of the IPO in 1999, but its stock is now down 20 percent from its IPO price. Of course, Ferri and Matrix pocketed millions for themselves and their clients, selling most of their Sycamore shares when they were still in the triple digits.

What's going on now? Matrix and North Bridge have generated a small cottage industry of optical startups. There's Appian Communications, Équipe Communications Corp., and Tenor Networks Inc., all touched by the Ferri/Anderson tag team. Recently, they've moved into more cutting-edge optics by funding PhotonEx Corp., a startup promising 40-Gbit/s DWDM systems by the end of the year (see PhotonEx Set to Demo 40 Gig).

So why are Ferri and Anderson suddenly making the list? While many VCs have gone gun shy in these taxing times (see Vinod Khosla), Ferri and Anderson are still active, making more recent investments in such companies as PhotonEx, kSaria Corp. (North Bridge), and Onetta (Matrix). They're extending their optical portfolio into the next generation, when the telecommunications market should be headed toward a recovery [knock wood here]. PhotonEx, staffed with a braintrust out of MIT's Lincoln Labs (the breeding ground of Sycamore's talent), looks to be a leading future IPO candidate. They say their first product will be out by the end of the year. Onetta, led by former Redback Networks Inc. (Nasdaq: RBAK) CEO Dennis Barsema, is targeting the amplifier market.

Is this a World Series team of optical companies, or will this just be another Beantown disappointment? The West Coast VC world – most notably Khosla – had a leg up in the last generation of networking IPOs with blockbusters such as Juniper Networks Inc. (Nasdaq: JNPR) and ONI Systems Inc. (Nasdaq: ONIS). Matrix and North Bridge will at least make it to the playoffs, but they haven't yet developed a long-term championship dynasty. The next six months will likely tell whether these guys have the staying power for the list.