The iPhone Arrives
What could make the normally oh-so-cool denizens of New York's SoHo district queue for hours -- and even days -- like Soviet-era housewives on a Borscht jag? Why, the
Apple Inc.
(Nasdaq: AAPL) iPhone of course!
Lines started forming early at the Prince Street Apple store and soon stretched around the block, despite the fact that the gadget won't be released til 6 p.m. Eastern time. The situation was similar at the official
AT&T Inc.
(NYSE: T) store on Broadway, according to our correspondent uptown.
Of course, some weren't just waiting for bragging rights but hoping to turn a tidy profit, too. People on New York City
Craigslist
were looking for more than double the asking price of the $600 8GB model even before they got one in their hands.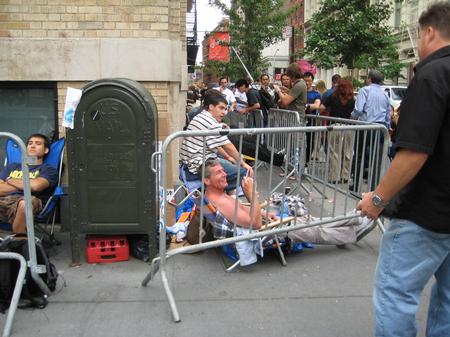 In fact, only a select band of broadsheet reviewers and TV crews have actually got their hands on an iPhone so far. The consensus being that the interface and design is a hit, but slow downloads and browsing speeds over the AT&T EDGE network are a letdown. Meanwhile, the majority of
Unstrung
readers believe that the device will be a hit for Apple and AT&T even if they aren't yet rushing out to buy one. Fifty-nine percent of the 137 respondents to our poll say that the iPhone will be a success, but only 29 percent believe it will be the next mobile gadget they buy. (See
iPhone, U Buying?
)
None of which will stop the Appple faithful waiting to be the first on their block with an iPhone.
— Dan Jones, Site Editor,
Unstrung
Photos by Ray McConville
EDUCATIONAL RESOURCES



PARTNER PERSPECTIVES
- content from our sponsors