Makers of telecom test equipment are locking onto demand in the metro space, according to a recent report from Frost & Sullivan.

Growth in metro networking testers is expected to be "moderate" over the next five years, says Jessy Cavazos, research analyst at the firm, who authored the report. It will nonetheless top 40 percent in that time. The firm estimates it will grow from $565.8 million in 2002 to a forecast $836.4 million by 2009, making it a boon for suppliers who've been desperate to keep business going.

Testers designed for metro networking applications comprise between 40 percent and 50 percent of new revenue for telecom testers in general, Cavazos estimates.

The majority of testers in the segment are used for installation and maintenance (I&M) of metro networks, with research and development applications and manufacturing making up the rest of the market -- a trend that will continue for the foreseeable future, the firm says.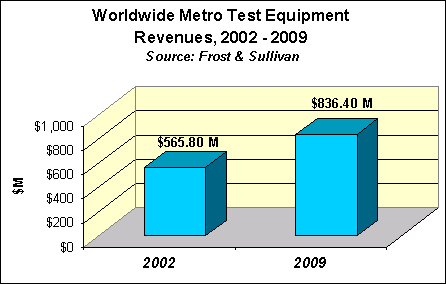 Gearmakers are "highly focused" on putting gigabit Ethernet, next-gen SONET, and CWDM capabilities into their testers, she says. Indeed, the vendors who've managed success in the test space despite the downturn, including the likes of Agilent Technologies Inc. (NYSE: A), Ixia (Nasdaq: XXIA), and Spirent Communications, have made metro functionality a top priority, she maintains.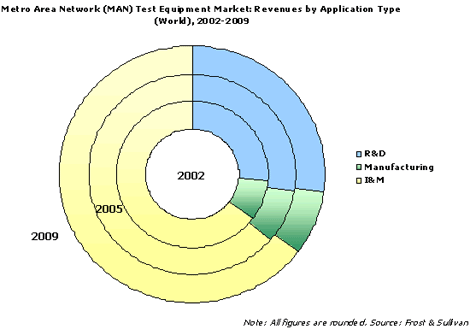 Support of Ethernet metro technology is especially key. "Ethernet is the biggest trend we see," Cavazos asserts. Vendor support of metro Ethernet could be instrumental in determining the outcome of the ongoing shakeout in the tester market, which has its share of companies facing economic challenges (see Acterna Default Points to Testing Times and Digital Lightwave Avoids Eviction).

— Mary Jander, Senior Editor, Light Reading