Telco Video & VOIP Stakes Rising
Traditional telcos are gearing up for the battle of the century, and triple-play service over DSL is the main weapon of choice, according to new research from
Heavy Reading
,
Light Reading
's research service.
The capability to build and deploy new services such as VOIP and video over copper networks is already here, thanks in part to vast improvements in DSL technology. And with the cable competition coming fast, telcos see their DSL triple-play strategies as the key to this fight, according to the report --
Telco Triple Play: the DSL Imperative
.
Already this week, financial results have backed up this view. Service provider Goliath
Verizon Communications Inc.
(NYSE: VZ) logged a solid quarter this week, citing DSL services as one of its new engines of growth to counter the erosion of legacy voice services (see
Verizon Boosted by DSL, Wireless
).
Heavy Reading
says this is likely to be an acclerating trend in 2004 and 2005, given that the largest local providers in the U.S. are only just now starting to realize the business benefits of a long-term investment in broadband. They're now likely to focus on more revenue per broadband customer, through the bundling of new services such as video and VOIP.
What's driving the new urgency? Quite simply, competition. VOIP and broadband services have driven the collision betwween cable MSOs (multiple systems operators) and traditional telcos, a war that's likely to grow more intense in the next few months.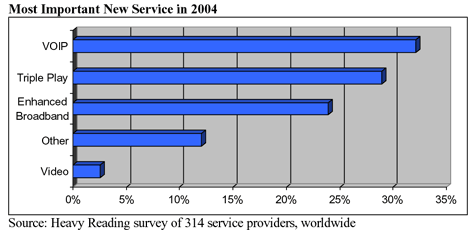 "Triple play is not just a clever method of bundling services to gain an incremental increase in revenues – it is a fortress to build around customers to keep them from fleeing to competitors," writes
Heavy Reading
chief analyst Scott Clavenna.
The report was based on a worldwide survey of more than 300 service providers to gauge their plans and attitudes toward triple-play and video-over-copper. In addition to the survey,
Heavy Reading
conducted a series of in-depth interviews with leading telco strategists.
So what about fiber to the premises? The service providers aren't writing off FTTP, according to the results of the
Heavy Reading
survey and research -- they just believe it may not be coming fast enough.
"Telcos are looking to roll out triple play quickly, and over a variety of infrastructures, both fiber and copper," says the report. "But while fiber-to-the-premises may emerge as the long-term choice for telco service delivery, it's clear that to deliver triple-play services now, telcos must make use of their existing copper networks using advanced digital subscriber line (DSL) technologies."
Here are some more revelations from the report:
VOIP everywhere. VOIP is the most important new service cited by service providers, followed by the triple-play combination of voice, data, and video.
ARPU burgeoning. Many service providers have found they can more than double the average revenue per user (ARPU) of an existing telco customer -- from approximately $90 per subscriber (for local, long distance, and broadband Internet) to nearly $200 -- by adding a suite of basic and premium video services.
Video-on-steroids.Service providers see video evolving into a broad range of services including video-on-demand, HDTV, and network-based personal video recorders (PVRs).
DSL grows up. The report notes that DSL technology is maturing and branching out to serve higher speeds and more needs. ADSL2+ to VDSL2 will support more than 20-Mbit/s per subscriber, which is sufficient for advanced video services to multiple TV sets per home. Multicast support is becoming common.
Cheap boxes. Residential gateways are getting cheap and will thus make deployment to consumers much more cost effective for service providers.
Content is king. A new breed of content developers and brokers is emerging to supply broadband-based content, including video, giving telcos access to competitive content options.
Sounds great, but are there any roadblocks? Of course. Skeptics will point to the challenges of rolling out video services, which require new capital expenditure, expertise in new technologies and architectures, and a successful negotiation of regulatory complexities. To boot, classic telcos like RBOCs have little expertise in the acquisition and marketing of content, where they seek to rival cable companies (see
Video Profits on Pause?
and
Carrier Comes Clean on Triple Play
).
But all this may not matter, because the looming cable threat will force telcos to adapt, whether they can or not -- or they risk dying.
"In many cases, it is easier for a cable operator to add voice services to its offerings than it is for a telco to add video to its lineup," writes Clavenna. "This has added significant urgency to video-service strategies for telcos."
To read more details on the report, go
here
. — R. Scott Raynovich, US Editor,
Light Reading
EDUCATIONAL RESOURCES



PARTNER PERSPECTIVES
- content from our sponsors