Tazz Pockets Another $6M
For a company that's been hiding its light under a bushel for a few years,
Tazz Networks Inc.
is currently in danger of drawing attention to itself.
Having recently announced the opening of its European HQ in the U.K., the policy server vendor was then named by
Cisco Systems Inc.
(Nasdaq: CSCO) as a key partner in the IP giant's successful bid to land a piece of the 21CN action at
BT Group plc
(NYSE: BT; London: BTA). (See
BT's 21CN: Metro Partners Under Wraps
and
Tazz Expands in Europe
.)
But the company isn't shouting from the rooftops about all its news. In fact, it hasn't yet formally announced its latest VC funding, a $6 million third round closed in April. Tazz CEO and founder Dan Lowe, a former Cascade Communications (acquired by Ascend) and Redstone Communications (acquired by Unisphere) executive, confirms the investment but isn't keen to talk about his company's relationship with Cisco.
Lowe says he's "not at liberty to discuss our partnerships," and so couldn't answer questions about the impact the Cisco relationship is having on Tazz's revenues, or whether Tazz has ever held talks with Cisco regarding closer business ties or an acquisition.
Cisco, though, is nothing less than effusive about Tazz. At a recent broadband networks presentation in London, Cisco executives raved about Tazz's Policy Control System, stressed its importance in Cisco's integrated offering to broadband access carriers, and highlighted its role in the provisioning and management of services.
Cisco showed how the policy server communicates with multiple network elements, including DSLAMs, B-RASs, softswitches, and video servers, and deals with the service requests and network policies to enable the accurate provisioning of voice, video, and data services.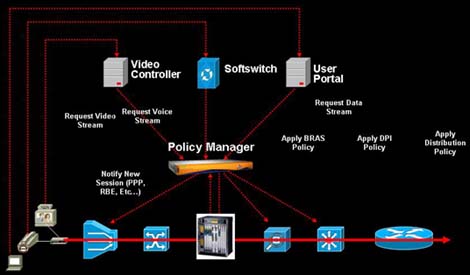 Is Tazz important enough for Cisco to want to own it? One of the Cisco executives at the London briefing, Enrico Deluchi, VP of wireline carrier sales in Europe, wouldn't answer that question directly, saying only that Tazz's technology is "already integrated into our solution."
Given Cisco's appetite for small acquisitions and its keenness to own technologies for development purposes, Tazz would make a natural target. The company has raised about $24 million in total, including the latest round, so it's doubtful that Tazz's investors -- which include
Lazard Technology Partners
,
BlueStream Ventures
, and
Pilot House Ventures
-- are in a hurry to find an exit strategy (see
Tazz Networks Raises $10.5M
and
Tazz Networks Tags $7.7M
).
In addition, Tazz might just attract wider attention following its inclusion in Cisco's 21CN pitch, and there aren't many alternatives in the market. Other vendors, such as
Camiant Inc.
(another Cisco partner, specifically for the cable sector) and
C-COR Corp.
(Nasdaq: CCBL) have similar products designed for cable networks, but it seems Tazz is ahead of the pack in designing a policy server that can be used to support the provision of services in cable, DSL. and Ethernet access networks
and
work in a multivendor environment.
Whether it remains an independent company or finds itself ingested by a larger player, Tazz looks to be well placed to attract further trials and deployments from operators that need network-based policy management that can handle triple-play services provisioned and managed by multiple network elements.
— Ray Le Maistre, International News Editor,
Light Reading
EDUCATIONAL RESOURCES


PARTNER PERSPECTIVES
- content from our sponsors