There's no disputing the fact that edge routers are hot.

The graphic below, from a recent Light Reading report, shows that edge routers were hot when carriers were building out their networks. They are staying that way during the current period of financial uncertainty – when carriers are looking to optimize their existing networks, rather than grow new ones. What's more, they will still be hot once we move to the next phase of network development – when next-generation gear will really start to take off in service provider networks.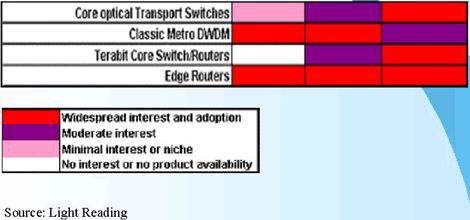 This puts edge routers in a unique position versus other technology categories, the popularity of which tends to fluctuate based on the carrier fiscal environment.

Why is this?

A lot of it has to do with carrier capital expenditure – or how much money service providers are spending with equipment vendors, and on what type of equipment. The networking industry is, after all, a Great Chain of Being – with service providers at the top. When they spend money, it goes to equipment manufacturers, which in turn spend money with component vendors.

The next graphic, which comes from a report written by Light Reading's paid research division, the Optical Oracle, shows the capex environment up to the end of the last century (or "BBB," Before the Bubble Burst). It depicts an unsustainable model of investment. Carriers were spending too much money, with too little return: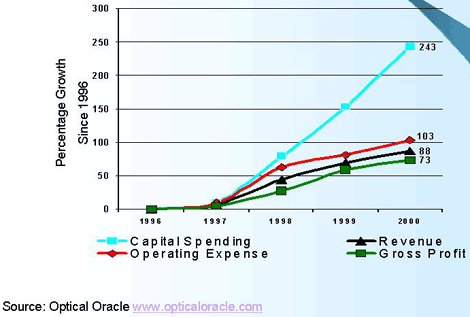 Carriers subsequently awoke to the error of their ways, slashed capex spending... and the bubble burst.

The next figure, also from Optical Oracle, shows the situation "post-bubble." It summarizes capex plans for the 12 leading service providers in the U.S. and shows that they are going to continue slashing capex for the foreseeable future: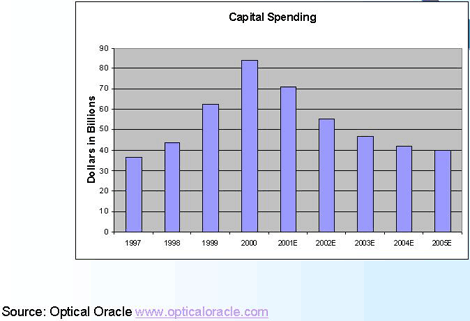 What makes edge routers unique is that, while they are not immune to the vicissitudes of carrier capex, they are less susceptible to it than are other equipment categories. And that's what the next slide shows: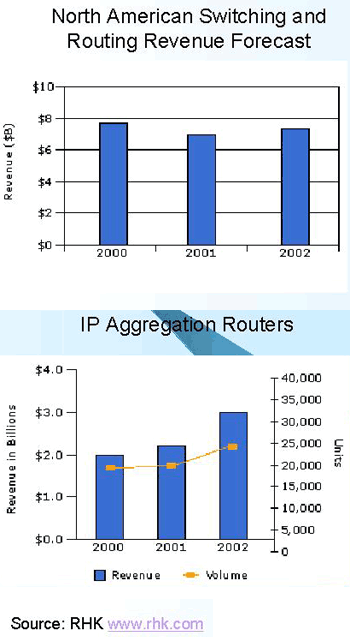 On the top, the bad news: Compared to 2000, 2001 was a disastrous year for networking equipment vendors in general, and router folks took it on the chin just like everyone else – with revenues actually dropping in 2001 and only picking up slightly this year. RHK Inc. switching and routing analyst Kelly Dougherty blames the steep decline in 2000 on the fact that service providers "were ratcheting down capital expenses and looking to reduce excess capacity in their networks."

On the bottom, the good news: Sales of IP aggregation routers (edge routers) represent a disproportionate amount of overall router sales. In fact, RHK is forecasting that by 2004, sales of edge routers will have leapfrogged sales of core routers, to account for nearly 60 percent of router vendors' revenues – compared to 37 percent in the year 2000.

So why is it that edge routers have remained relatively immune to the capex crisis? And why is the edge router market growing, when everything else is contracting?

It turns out that while most networking vendors (and investors) spent the last three years fixated on finding ways to build optical networking products that could add massive amounts of bandwidth to service provider networks, the changing economic climate meant that service providers themselves have been searching – with a sense of increasing desperation – for devices that would allow them to do more with the capacity they already have.

Hence the recent rampant interest and activity in edge routing.

Vendors (and, again, investors) have finally caught on en masse to the need for innovative products designed to help carriers build out the edges of their networks with equipment that costs less to buy and run and simultaneously positions them to deliver a bundle of new revenue-generating services in the future. (This has resulted in some noteworthy strategic about-faces. Redback Networks Inc. [Nasdaq: RBAK], for example, recently refocused its R&D from next-gen optical equipment to edge routing.)

The result is that edge router vendors are now bringing to market a slew of products designed to deliver a bulletproof "double business case": both saving money for service providers (via smaller, faster, cheaper form factors), and making it for them, through support for revenue generating services that include – but are by no means limited to – application-based quality of service (QOS) and virtual private networks (VPNs) based on IPSec or Multiprotocol Label Switching (MPLS).

As noted, the upshot of all this is that market researchers expect service providers' spending on edge equipment to leapfrog spending on their overbuilt core networks.



Editor's Note: Light Reading is not affiliated with Oracle Corporation.