Supercomm Snippets: The Sequel

6/25/2004

Comment (7)

CHICAGO – Supercomm 2004 – Never mind capex increases, levels of optimism, and operator strategies for next-generation networks. There's only one way to gauge the health of the telecom sector, and that's by the quality of the freebies available on the show-floor stands.

The news is not good, people. The "Freebie Factor" rating is still distressingly low – clearly the worst is not yet fully behind us. Pens and T-shirts simply don't cut it with the modern, sophisticated exhibition visitor.

Our "Freebie of the Show" award goes to OSS company System Management Arts Inc. (Smarts) for its Musclemites remote control car (see picture below). By Wednesday lunchtime it had shipped more than 350, and there was no sign of demand abating.

Now everyone needs to take Smarts' lead and put some serious effort into their stand giveaways for 2005. We want to see some serious toys next year, or some fine wines.




Speaking of which, get a load of our remaining Supercomm Snippets, fresh from our reporters' notebooks (see Supercomm Snippets):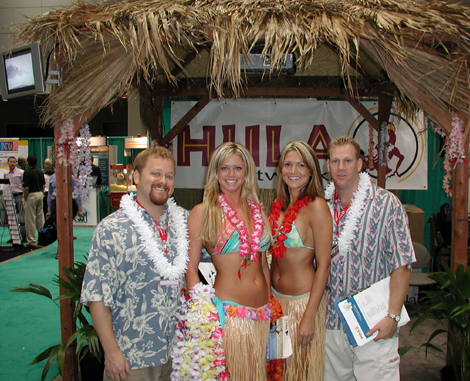 The only thing missing from the stand was any explanation of what the company actually does, but that didn't seem to put anyone off. (It's a reseller, in case you were wondering. Of equipment. Not hula skirts.)
We'll end this missive by spotlighting the most annoying and overused phrase of the 2004 show. For some reason, 2004 was the year of "Moving forward." As in: "Please stop using such meaningless phrases in your presentations, moving forward."
— Ray Le Maistre, International Editor,
Boardwatch
, and Craig Matsumoto, Senior Editor,
Light Reading

(7) |