Talk about making an entrance...

When Mukesh Chatter and Ray Stata founded Axiowave Networks Inc. nearly two years ago, they didn't have much to say. They said their startup's main focus was optical networking, period. And they've pretty much stayed stealthy as can be -- until this week.

But here's a sign o' the times: The first real news to emerge from Axiowave is a layoff. On Monday, the startup handed pink slips to a department of engineers working on the company's ultra-dense optical crossconnect switch. The news first came over the transom from an optical worker familiar with the move (cozy world, isn't it?).

CEO Chatter confirmed the layoff, but he says the number was "under 30" and that the product they were working on was only one of several DWDM boxes on the company's roster.

"We saw what Nortel did with Xros," says the indefatigable Chatter, referring to the discontinuance of the Xros product line by Nortel Networks Corp. (NYSE/Toronto: NT) in early March (see Nortel Shuts Optical Switch Effort). "We saw the handwriting on the wall that the market for large-port-count crossconnects isn't there. We decided to freeze our activity until the market returns."

Not to worry, though. Chatter says the company has another 150 employees working on a range of other products, including small and medium-sized optical crossconnects for the metro and core portions of carrier networks.

Industry sources believe Axiowave is creating a partially optical multiservice core switch that will be a competitor to the 7670 platform from Alcatel SA (NYSE: ALA; Paris: CGEP:PA) and gear from Équipe Communications Corp.

"We're making very good progess," Chatter says. Products are in trials with a number of prospects, and Axiowave plans to make an official announcement in the latter part of 2002.

Chatter and Stata founded Axiowave in May 2000, a few months after the core routing company they founded, Nexabit Networks, was purchased by Lucent Technologies Inc. (NYSE: LU) (see Chatter's New Box, Lucent Cleans Up Core Routing , and Whatever Happened to X?). In fact, many Lucent employees followed Chatter to Axiowave after he left to form the startup (see China Mobile Likes Juniper). Stata serves as Axiowave's chairman.

The two also founded an optical fiber company, OmniGuide Communications Inc., in September 2000 (see A Fiber Filled With Air). Although Chatter isn't active in the management of that company, Stata is billed as its acting CEO.

Chatter says Axiowave is well funded, having raised about $80 million from Madison Dearborn Partners, Soros Private Equity Partners, and other sources, including some of Chatter's own money.

This sum is adequate for their short-term needs, but not yet enough for the long haul. "In this market, you're continually raising money in anticipation of a longer slowdown," Chatter maintains. "We never have enough."

Despite this week's inadvertent ripping aside of Axiowave's cloak of secrecy, Chatter maintains a quiet and cautious demeanor about the company's doings. "There's more to our story," he says, "But we're still in stealth."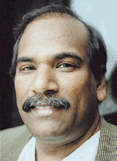 — Mary Jander, Senior Editor, Light Reading
http://www.lightreading.com