It might be difficult to guess the direction of Sonus Networks Inc.'s (Nasdaq: SONS) famously volatile stock price, but the direction of CEO Hassan Ahmed's pay is clear: It's headed skyward.

Ahmed nearly doubled his salary to $295,000, picked up a $236,000 bonus, and was awarded stock options worth millions of dollars in 2004, according to a filing with the Securities and Exchange Commission (SEC). All the while, the softswitch vendor was dealing with accounting issues that sent its stock tumbling from nearly $10 at the beginning of the year to a low of near $3.20. (See Sonus Drops a Bomb, Sonus Redeploys CFO, SEC Steps Up Sonus Probe, Sonus: Whew!, Sonus Misses the Mark, and Sonus Promises, Promises.)

The filing also shows that Ahmed was reimbursed $22,000 in "operating expenses associated with the use of private aircraft for business purposes."

Ahmed has seen his salary rise by a further $80,000 to $375,000 in 2005, a year in which Sonus appears to have settled its accounting issues but is now dealing with the dreaded "lumpy revenue" problem. (See Sonus Cleared by SEC, Stock Jumps, 'Good Grief!' Sonus Disappoints Again, and Sonus Shares Latest Thrill .)

The filing notes, though, that this "is still generally below the level for chief executive officers at comparable companies," though it doesn't say with which companies Sonus can be compared.

In comparison, Cisco chief John Chambers collected $1.9 million in salary in Cisco's fiscal 2004 year, after years of only receiving a token $1 in salary and taking the rest through stock options. Chambers has earned tens of millions of dollars over the years selling his Cisco stock. Cisco had $22 billion in revenue in fiscal 2004, while Sonus collected $171 million in sales in calendar year 2004.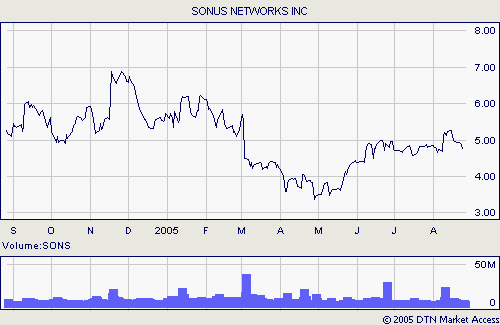 Sonus's share price appears to have hit an air pocket today, down 15 cents, more than 3 percent, at $4.67 in afternoon trading.

Sonus made the filings as it prepares for its annual shareholders meeting in Chelmsford, Mass., on October 12.

— Ray Le Maistre, International News Editor, Light Reading