Sonet: Who's Ahead in Long Haul?
Cisco Systems Inc.
(Nasdaq: CSCO) announced yesterday that it's leading the North American market for long-haul Sonet OC48 products, based on figures from
RHK Inc.
The figures were published in the market research firm's January 2001 report, "SONET Transport and DCS Long-Haul SONET Market Forecast." OC48 links support 2.5-Gbit/s in carrier networks.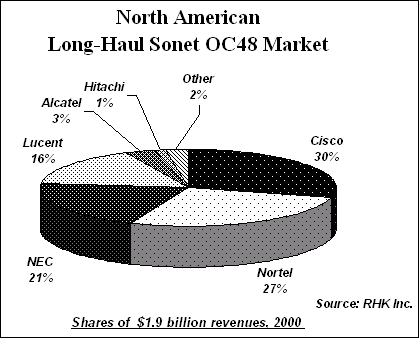 Cisco's announcement is interesting for several reasons. First, it demonstrates the priority Cisco's assigned to gaining a significant toehold in the market for mainstream carrier equipment, a market the company entered seriously less than two years ago with its acquisiton of Cerent Corp.
But Cisco also has raised a bit of confusion. That's because the success of Cisco's Cerent box, now dubbed the ONS 15454, has been chiefly in network edge applications, not in the long-haul part of the net. The ONS 15454 was among the first products to aggregate OC48 links and feed them from carrier points of presence (POPs) to the network core.
It's also notable that Cisco's announcement this week didn't mention a number of other interesting points from RHK's report. For instance, RHK's figures show
Nortel Networks Corp.
, the overall Sonet market leader, breathing down Cisco's neck in long-haul OC48. Just three points separate the two companies' slices of the OC48 pie.
What's more, RHK's report indicates that Cisco's not leading the most lucrative segment of the North American long-haul Sonet market. Sales of Sonet OC192 (10 Gbit/s) gear were $2.763 billion of an overall market of $5.03 billion in 2000 -- more than the $1.944 billion for OC48 (although more OC48 ports actually shipped). And RHK says that OC192 is the fastest-growing segment of the long-haul market.
What's more, Cisco's not on the map at all when it comes to sales of Sonet OC192 links, according to RHK. Instead, Nortel sales account for 95.1 percent of that market, with the rest of the pie divvied up among other players in tiny slivers.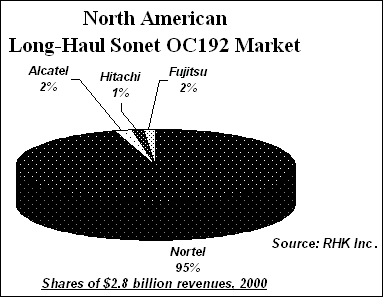 Neither Cisco nor Nortel seems eager to emphasize these points -- for different reasons. For its part, Cisco doesn't yet support OC192, and understandably eschews discussing the potential of that market. "We don't talk about unannounced products," a spokesperson says. And although Cisco's talked for months about adding OC192 to the ONS 15454, nothing has materialized so far.
Some analysts other than RHK say Cisco needn't worry too much about OC192 in the metro space -- where its OC48 presence is strongest. "OC192 isn't big in the access space," asserts Seth Spalding, director at
Epoch Partners
. He says some vendors, such as
ONI Systems Inc.
(Nasdaq: ONIS), offer OC192 as an access option, but he doesn't foresee it taking off there for at least a couple of years.
For its part, Nortel seems to view its leadership in long-haul Sonet OC192 links as a mixed blessing. That's because Nortel would rather publicize figures that show its role in next-generation products via sales of DWDM (dense wavelength-division multiplexing) gear. Ironically, Nortel gave a mixed message last week in announcing its market share in DWDM (see
Nortel: Top Dog, but for How Long?
) -- just as Cisco did with RHK's figures this week.
In both cases, attempts to pin down one aspect of the market served to emphasize a larger, more complex picture that wasn't initially discussed.
-- Mary Jander, senior editor,
Light Reading
http://www.lightreading.com
EDUCATIONAL RESOURCES


PARTNER PERSPECTIVES
- content from our sponsors