Decentral.tv CEO Daniel Graf says video is all about the experience.

That's not necessarily the experience of watching flawless, high-def cinematic perfection, but the experience of instantly broadcasting a photo or video to your own channel on the Web.

But the experience won't stop there. It's about allowing your friends to log on, contribute to your video channel, and allowing you to instantly view their broadcasts, too. If anyone else is watching, you get instant feedback from people all over the world as they take in whatever you and your friends are broadcasting.

Graf's company, decentral.tv , is still beta-testing a service, called kyte, that makes it possible to do everything described above with less effort than it took to write this sentence.

Kyte's not a publicly available service yet. When it does go live, telecom carriers should push back from their desks and think about this for a few minutes. This could be a very big deal.

"There's an addictive element to it. Whenever you, or someone else on your channel, do something new, you're always connected live to what they're doing," says Graf.

Whoa, dude.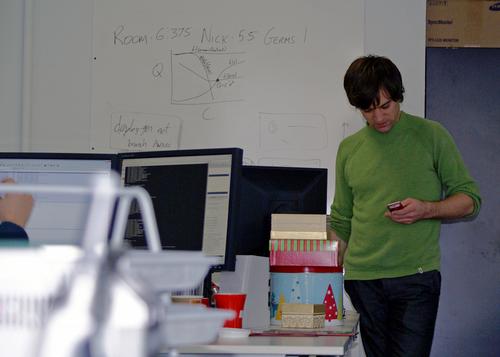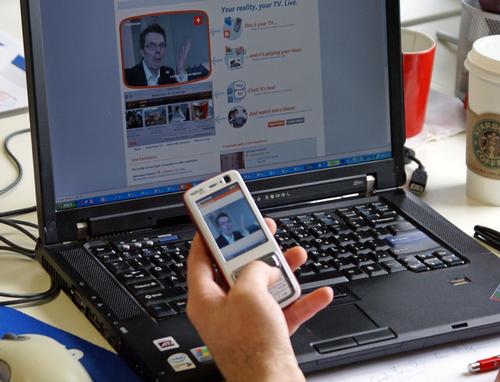 The 30-headed monster
The advent of services like kyte could make rather mundane staples of the video world, like daily TV news, a spicy good time.

Think of how you experience coverage of a news event now, like a big celebrity trial. On TV, you might see 10 different reporters, providing 10 different perspectives, staked out in different places. All of their on-air reports will require lots of calls to the studio and other ad hoc bits of coordination. The results can be breathtaking. Or boring.

Now think of covering the same news event with a twist. Hand 30 video/camera phones, all pointing to a specific kyte channel, to 30 people – bloggers, fans, whatever. On a Web page, run the pro broadcast and the Web channel produced by the 30-headed monster side-by-side. It might not always be pretty, but it could be entertaining. (And TV news is supposed to be entertaining, right?)

Decentral.tv's kyte is about to fly right into a lot of consumers' lives. When it does, telecom carriers, media companies, and others will need to understand how they can benefit from a mobile, dispersed, always-on social network where the content distributor always knows exactly how many people are watching and, possibly, who they are.

If you think audience figures influence ratings now, wait until we get to a point where, like on kyte, you can watch people joining or leaving your channel as you go about the business (or pleasure) of broadcasting. Wait until we get to the point where, like on kyte, you can poll your audience in realtime and immediately act on the results.

Will carriers fly with kyte and drink in Joost?
For carriers, it's important to understand how Graf's company, backed by Niklas Zennström, is different from Joost, founded by Niklas Zennström. (See Decentral.tv Joins Video Fray and Skypsters Fast Forward to Internet TV.)

Here's some data that may help:

Table 1: Kyte and Joost: What's the Difference?

Joost
Kyte
Distributes professional, licensed content
Distributes user-generated content
Runs on PCs*
Runs on PCs and selected mobile phones
Not publicly available, still in beta
Not publicly available, still in beta
Founded by Niklas Zennstr�m, Janus Friis
Founded by Daniel Graf, Eric Abair
Content is available for free, but could be ad-supported
Content is available for free, but could be ad-supported
It's realtime, baby: You can post messages about the content you're watching and others who are watching the same content at the same time can respond.
It's realtime, baby: You can post messages about the content you're watching and others who are watching the same content at the same time can respond.
App is very TV-like: Toolset allows you to decide how long controls stay on screen
App for pure Internet video: Media player's controls stay put for ease of use
Buffer-free zone: Focus is on highest-quality video delivery. A Joost publicist dutifully adds: "We also focus on instant gratification in terms of 'instant on,' 'channel flipping,' etc. Additionally, our social networking plugins are a real differentiator." So there.
Instant gratification: Focus is on realtime social networking, collaboration, etc.
Delivery mechanism is P2P, "with a load of low-cost UNIX servers acting as 'Long Tail Servers' to prop up the P2P network for rarely-watched content." **
Don't know how this is delivered. Probably a centralized, server-based app. Possibly magic.
Founders include Niklas Zennstr�m, but the company won't say who its backers are
Investors include Niklas Zennstr�m
* And Macs. Yes, they support Macs, too. Okay, Mac users? Happy now? Gosh!
** That bit came from Dirk-Willem van Gulik, the CTO of Joost and the inventor of more than 31 unique wrestling holds


Both kyte and Joost allow viewers to interact with one another while ingesting video content. Both services offer a way for content distributors to know how many people are taking in what they're putting out. Finally, both services are in their infancy, so both will likely include other devices and functions that will only expand the ways people can watch and connect to other people, entertainment, etc.

Here's the point to this preamble: In the coming months, social networks will be more social and more networked than ever before. And services like kyte and Joost will enable producers and advertisers to connect with – and extract money from – audiences all over the world. This is being done across carrier networks while all parties could be completely indifferent to whether carriers are making dime one from either end.

Will carriers embrace the change and react with savvy partnerships, custom channels, premium content, and value-added services? Or will they use these new tools to make the same old mistakes?

We'll find out when – not if – kyte takes off.

— Phil Harvey, Managing Editor, Light Reading