Siemens Information and Communications Network Inc. has announced the departure of its CEO after just four months on the job.

Mark Floyd took the helm as CEO of ICN's U.S. subsidiary October 1, 2001, as part of a general influx of new blood (see Siemens ICN Names Chiefs). He is leaving tomorrow, January 31, 2002.

Neither Siemens nor Floyd offered any explanation for the departure.

Perhaps one isn't needed: In recent months, the Boca Raton, Florida-based affiliate of Siemens ICN worldwide has been routinely singled out as the black sheep of the group, which appears to be in deep doodoo with Siemens bigwigs. Indeed, ICN as a whole is typically isolated for a dressing down in company financial reports.

The latest earnings report was no exception (see Siemens Back in Black). After touting sales figures for other Siemens divisions, the press release states: "In contrast, sales and orders declined significantly at Information and Communication Networks (ICN), both year-over-year and compared to the previous quarter. As a result of this trend, ICN is currently reviewing the scope of its restructuring program, especially concerning its U.S. operations, and may take additional measures and charges." (Italics added.)

While the U.S. group (known as ICN Inc.) can't be blamed by itself for ICN's problems, it is strategic to Siemens and contributes greatly to the group's revenue picture. In total, ICN stateside contributed €1.7 billion (US$1.46 billion), about 13 percent of ICN's €12.9 billion ($11.1 billion) in sales in fiscal 2001.

Although Floyd had been pressured to make a difference, ICN's latest earnings report showed he'd made no immediately visible headway. Sales in the first fiscal quarter of 2002 were €2.54 billion ($2.19 billion), down 12 percent year over year and 30 percent sequentially. Even more distressing, EBIDTA (earnings before interest, taxes, and depreciation, a general measure of liquidity) was a negative €124 million ($107 million), including all charges, compared to a positive €150 million ($129 million) one year ago.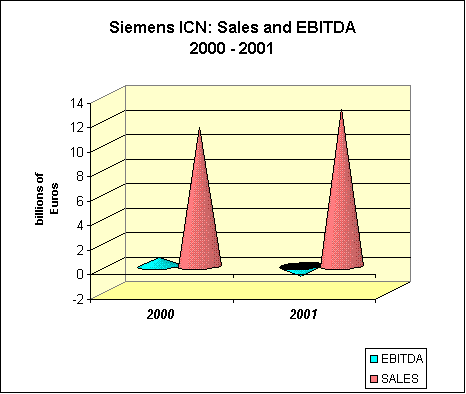 Siemens says several factors are contributing to the problems. On the sales side, Siemens financial reports cite an overall reduction in orders due to the carrier capex slowdown; slowed growth in U.S. broadband access, particularly DSL; and pricing pressure in switching gear.

EBITDA appears to have been devastated by nonrecurring gains, restructuring charges, and writedowns for accounts receivable, inventory, and VC investments.

ICN has been particularly hard hit by restructuring. The group is in the process of cutting 10,000 jobs and cutting its production facilities considerably worldwide (see Siemens To Cut People and Plants). And more may be on the way, according to the latest financial news. "We continue to assess the need for further action at ICN," said Siemens CEO Heinrich v. Pierer in a prepared statement.

Interestingly, Optisphere Networks Inc., ICN Inc.'s optical subsidiary, has been minimally affected by layoffs, according to ICN spokesman Thomas Phillips.

Back in Boca, Thomas Ganswindt, ICN group president, will take the helm until a replacement is found. "The board is evaluating the situation," an ICN spokesman says.

Ganswindt himself is relatively new on the job, having taken the group presidency after the departure of Roland Koch in July 2000 (see Nortel to Grab Koch?). Koch had been group president of ICN for about two and a half years.

Mark Floyd took over as CEO from Anthony Maher, who'd held the job since 2000 and has since retired.

Floyd's parting from the company seems amicable: "Mark Floyd has played an indispensable leadership role in re-focusing our business on the unique needs of the U.S. market... We're pleased that he will continue to serve Siemens as a consultant," said Ganswindt in a statement.

Floyd came to ICN as part of the acquisition of Efficient Networks for €1.6 billion ($1.37 billion) back in April 2001. Besides the purchase price, Siemens took on €457 million ($393.8 million) in debt during the acquisition.



— Mary Jander, Senior Editor, Light Reading
http://www.lightreading.com