Ever think the last mile could end in your bathroom?

A small but determined group of companies say that stringing fiber through city sewers is the answer to high-speed access. And they're vying for contracts based on their methods of running cable where none (or, depending on your viewpoint, many) have gone before.

At least three companies, CableRunner North America LLC, Ca-botics Fiber Systems, and CityNet Telecommunications Inc., say they can do the best job of helping service providers, cities, utilities, and other interested parties plant fiber infrastructure while avoiding the disruption and high cost involved in pulling up the pavement.

CityNet, which started out billing itself as a service provider two years ago (see Startup to Pipe $275M Into Sewer), lists CableRunner as a business partner on its Website; and the two cofounded a sewer-fiber training center in Boca Raton.

CableRunner started as a subsidiary of the municipality of Vienna, Austria. Its main stock in trade is the technology it's used in various European projects, especially Vienna.

Ca-botics, like CableRunner, is predominantly a technology company, offering services based on its own brand of robotic sewer-boring hardware. CityNet has evaluated Ca-botics services, but nothing's come of it yet.

Despite past relationships and knowledge of each other's wares and services, shrinking budgets and higher stakes in the local access market have sharpened competitive edges among all three companies in recent months. Central to the argument is how best to run fiber cable through city sewers, clearly a specialty not mastered by many other firms.

For its part, CityNet claims to use a variety of approaches to getting the cable installed, although it relies mainly on a specialized robot called SAM (short for Sewer Access Module) that's made by Ka-Te System AG, a Zurich-based vendor. SAM puts rings into pipes, then runs conduit and cable via those rings. The advantage of SAM, CityNet says, is that SAM can enter sewers that can't be accessed by humans. Once it's installed the fiber, it can be used to maintain and troubleshoot the cable as well. SAM can be used in a range of irregularly shaped pipes measuring as small as eight inches.



Ca-botics contends its technique, called STAR (Sewer Telecommunication Access by Robot), is faster than ring-based approaches like CityNet's and can work in smaller pipes. STAR works by embedding small hooks or anchors into the pipe, then threading specially designed cable through the pipeline.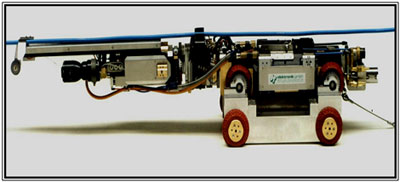 CableRunner's approach involves a combination of techniques, including a robot that installs cable in a kind of tray laid into the pipe [ed. note: what? no cutesy acronym? KACK, maybe? HAL?]. CableRunner says this approach is superior to rings or anchors because it doesn't damage the pipe wall in the same way the other techniques do.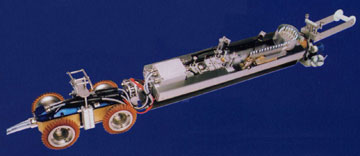 It's a bit early to evaluate these claims. It may be more interesting to watch how the various companies unfold in the real world. So far, progress seems slow.

CityNet, which has an alliance with Alcatel SA (NYSE: ALA; Paris: CGEP:PA) to supply fiber and termination units for its sewer installations, has completed a network in Albuquerque and has projects underway in Indianapolis and in Seville, Spain.

CableRunner has several European sewer networks to its credit. It also won contracting rights in Egypt this year.

Ca-botics has installed sewer networks in Dublin, Ohio, and in several Canadian cities, including Mississauga, Ontario. It has a joint supply agreement with OFS, which offers specially sheathed wares for use in sewers as part of Ca-botics' solution.

Each of these companies appears to have many irons in the fire -- plans underway with slow-moving municipalities and public utilities commissions worldwide. And while none has managed to take the industry by storm-sewer, each vendor has proven its ability to forge partnerships as needed to get work done. It will be interesting to see whether their attempts to exist without each other result in a larger or smaller market.

— Mary Jander, Senior Editor, Light Reading
www.lightreading.com