With the recent flood of malicious Web and email attacks, it seems like a good time to be in the security business. Ironically, though, enterprise and service provider customers have slowed their spending.

According to recent reports from market research firm Infonetics Research Inc., growth in two key security segments -- next-gen virtual firewalls (including virtual private networks, or VPNs) and intrusion detection -- slowed in the second quarter of 2003 as customers pushed back purchases.

Analyst Jeff Wilson says customers are confused by all the changes happening in security products and architectures. "Customers are trying to understand the difference between next-generation firewall products and intrusion detection-and-prevention products," Wilson says. "They're trying to figure out if they should continue using IPSec or deploy SSL VPNs. So, instead of just jumping into new purchases, like they've done in the past, they're waiting."

While customers weigh their options, they lengthen sales cycles, which has resulted in sluggish spending in the first and second quarters of 2003.

The slowed sales trend can be clearly seen in mid-range VPN/firewall appliances, says Wilson: Spending on products in the $10,000 to $30,000 range has taken a dip and is expected to continue to lag.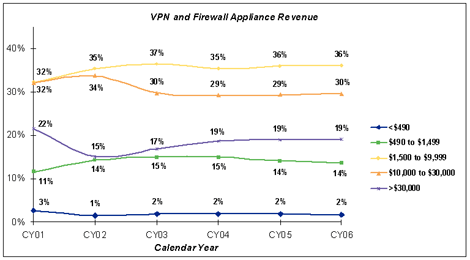 NetScreen Technologies Inc. (Nasdaq: NSCN) is a good example of how confusing things are getting. The company has been selling a standalone intrusion detection and prevention product that came with its OneSecure acquisition last year (see NetScreen Acquires OneSecure). The OneSecure product looks into applications on a network in order to prevent inrusions at that level, such as through email. NetScreen is expected to incorporate this application-aware technology later this year into its original security product, a next-generation firewall. Some customers don't know if they should buy the standalone former OneSecure product or wait for the enhanced firewall, says Wilson.

The VPN/firewall market is just as confusing. For the most part, VPNs that deploy secure sockets layer (SSL) protocol are sold separately from traditional VPN products that use IPSec tunneling and encryption. But some vendors, like Nokia Corp. (NYSE: NOK), are talking about incorporating the functionality onto the same device (see Nokia Sweetens SSL ). Customers are pondering whether to buy multiple products or wait for new ones that combine different functions.

Wilson expects to see some improvement in the second half of this year, due to the increasing risk of application-level security threats like email- and Web-based viruses. But he says the market won't really take off for at least another year.

While the VPN/firewall market saw some growth in the second quarter of 2003, it was moderate. The sector only grew 1 percent to $705 million. Wilson expects revenues to increase to $831 million by the second quarter of 2004. In 2002, the market generated $2.7 billion in revenue. By 2006, he estimates, the annual revenue for VPN and firewall products should hit $4.2 billion.

Cisco Systems Inc. (Nasdaq: CSCO) continues to lead the VPN/firewall hardware and software market with a 39.9 percent share. Check Point Software Technologies Ltd. (Nasdaq: CHKP) came in second. NetScreen, Nokia, Nortel Networks Corp. (NYSE/Toronto: NT), SonicWall Inc. (Nasdaq: SNWL), Symantec Corp. (Nasdaq: SYMC), and WatchGuard Technologies Inc. (Nasdaq: WGRD) are strong second-tier players with significant marketshare across a number of categories, says Wilson.

Worldwide sales of intrusion detection and prevention systems (IDS/IPS) fell slightly, according to Infonetics. Total sales for the sector were $104 million in the second quarter and are expected to grow 43 percent to $149 million by this time next year, says Wilson. In 2002, the market generated $383 million in revenue. It's expected to hit $1.1 billion by 2006.

Internet Security Systems Inc. (Nasdaq: ISSX), the incumbent vendor in this market, showed 20 percent revenue market share this quarter. Cisco and Symantec tied for second, each with 13 percent of the market.

The intrusion detection market can be segmented into three categories: network-based hardware, which accounted for 47 percent of the total; network-based software, which made up 20 percent; and host-based software, which accounted for 33 percent. Wilson expects dramatic changes in the breakdown of this market as more customers buy network-based hardware products instead of network-based software. Cisco leads in network-based intrusion detection and prevention with 19 percent of total revenue, and it has 27 percent of the intrusion detection and prevention hardware market.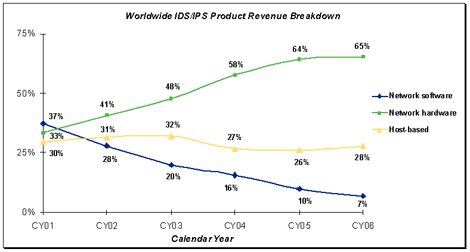 — Marguerite Reardon, Senior Editor, Light Reading