Schwag Museum: The Ciena Dawg

Comment (1)
3:40 PM -- It's Friday, so it must be Schwag time. Welcome back to
Light Reading
's Museum of Schwag.
Past entries include
Dorky Cisco Guy
and
Alta-Haulit
This week's entry: The infamous Ciena Dawg (Ruff! Ruff!).
This is one of my faves. Time-tested by countless children of various
Light Reading
staffers, this toy has been put through the ringer -- and it's received universal acclaim.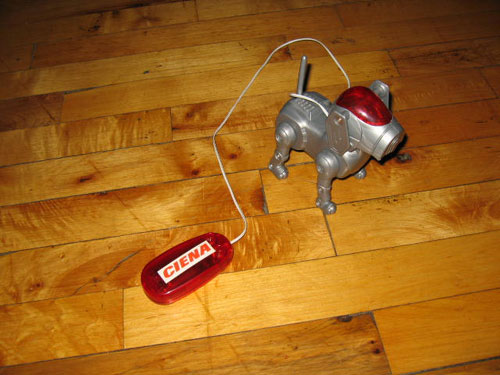 Marketeer: Ciena Corp. (Nasdaq: CIEN)
Name: The Ciena Dawg (That's not official, it's just what I named it.)
Era: Bubble
Debut Venue: Unknown
Field notes: Receives an A+ rating on the marketing-toy kiddie test. The bark is cute and somewhat harmless, kind of like a Ciena marketing director. Advanced button features allow you to tell Dawg when to walk or bark. We really wish Ciena had introduced a remote-control version.
Marketing message: "Like shares of Ciena stock, a dog can look cute and cuddly. It could also bite your hand off."
Status: We believed this toy has been taken out of distribution due to budgetary contraints.
— R. Scott Raynovich, US Editor,
Light Reading