SBC pulled back the covers today on its Project Lightspeed, an aggressive access network makeover that will consume about $4 billion in spending and is projected to reach 18 million households by 2007.

The planned IP network will use both FTTP (fiber to the premises) and FTTN (fiber to the node) technologies and, once activated, will provide customers downstream bandwidth of speeds up to 25 Mbit/s.

The Project Lightspeed network services will also include high-quality TV and voice services, with four streams of TV programming available to each customer, which is enough to offer HDTV and Internet access on the same IP network. Earlier, Alcatel was selected as one of the main suppliers and integrators in this effort (see Mais Alors! Alcatel Bags $1.7B SBC Deal ).

Lea Ann Champion, the senior executive VP in charge of SBC's IP operations and services group, insists that SBC's effort is not a "me too" network. "The FTTN deployment can be completed in one fourth the time required for an FTTP overbuild at about one fifth of the capital investment," she says.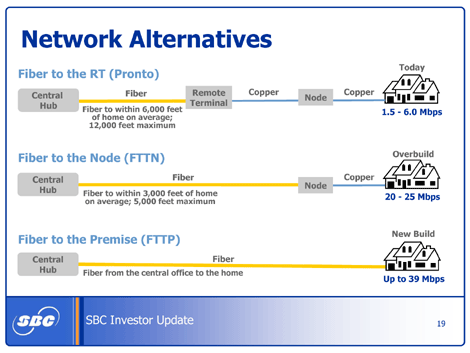 The apparent swipes at Verizon Communications Inc.'s (NYSE: VZ) FTTP initiative continued as Champion banged on about SBC's plan to deliver digital video on an IP network, rather than analog video services over a cable network (see Verizon Says, 'Hello, Moto').

SBC will use FTTP in greenfield and some multi-dwelling unit deployments, but it only expects to have about 1 million households served with FTTP by 2007. The rest will be served by FTTN, which takes fiber to within 3,000 feet of homes served and uses video compression and IP switching to deliver digital services over the standing copper network (see FTTP Debate Heats Up ).

Verizon, however, isn't crying in its beer. "We stand by our decision to bring fiber all the way into the home or business, because… as new applications for customers are developed, we will not have to build new infrastructure," says Verizon spokesman Mark Marchand, in an email to Light Reading. "I'm sure SBC does see the value of FTTP, since they have chosen to do it in greenfield applications."

SBC says lab and field trials are under way now with its IPTV service in San Antonio and the service launch is expected late in 2005, no sooner than Verizon's video service.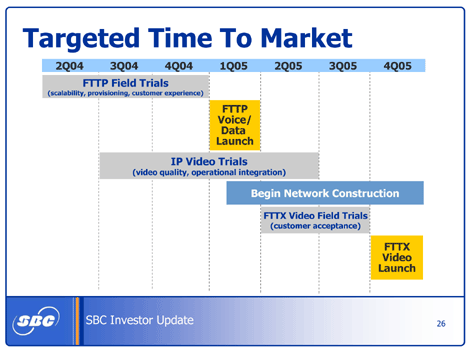 The company's video aspirations are high indeed. The company's stated goal is to be the second largest video provider in the regions it offers service within the next five years.

But the converged IP access network will save SBC money in the long run. The company believes it will save about $300 million annually by the end of 2007 and that number could rise, depending on how many customers sign on to the available services.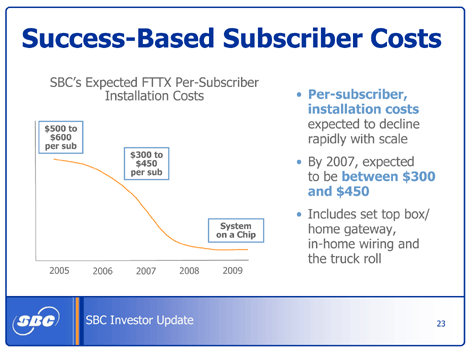 And, SBC's case for the FTTN approach is that it saves lots of dough on the up-front investment. The company says that, while initial FTTN households will cost up to $600 apiece to hook up, that price will drop to the range of $300 to $450 by 2007. That price includes providing a set-top box or home gateway, the appropriate in-home wiring, and a truck roll to get the whole mess working.

SBC's overall capital expenditures expected in 2005 will be "at the high end" of the $5 billion to $5.5 billion range provided earlier this year.

To make room for that spending -- and to give a glimpse at the early impact of a converged network -- SBC has said it could cut more than 10,000 jobs by the end of next year, giving the carrier a savings of more than 17,000 paychecks since 2003 (see Headcount: Cutting the Fat (Really)).

It's worth mentioning that SBC has had grand network visions before: the carrier's Project Pronto initiative, announced in the late 90s, proposed to provide 77 million Americans with DSL service by the end of 2002. By October 2001, however, SBC announced that it would reduce capital spending by 20 percent in 2002 and scale back its original deployment schedule. This summer, SBC had 4.3 million DSL customers.

But since the late 90s, two major changes have occurred. First, the carrier has never faced the competitive pressure it now has from cable operators. Second, no other technology service has been given as wide a regulatory pass as fiber-based IP services by the FCC in recent years.

— Phil Harvey, News Editor, Light Reading