SBC Communications Inc.'s (NYSE: SBC) reported talks to buy AT&T Corp. (NYSE: T) could open up several other merger and acquisition scenarios among the nation's largest telecom carriers.

The potential SBC/AT&T combination, the details of which were first reported by The Wall Street Journal and The New York Times this morning, could cost SBC anywhere from $15 billion to $16 billion, but would give the company a dominant position in the enterprise communications market, in addition to ownership of one of the world's largest long-distance networks.

The reported talks indicate that RBOCs could be waking up to the fact that their plans to deliver a plethora of services to consumers via fiber-fed networks aren't going to come to fruition quickly enough to save them (see SBC Puts on a Happy Face). Just yesterday, SBC reported that its retail consumer base lost 192,000 access lines in the fourth quarter alone, a reminder that its overall wireline business is shrinking -- yet another catalyst for it to combine with a more business-focused inter-exchange carrier (IXC).

"We believe SBC's recent consumer growth will falter over the next 12 to 24 months as penetration of LD [long distance] and DSL slow and customer defections increase," writes John Hodulik, wireline telecom analyst at UBS Investment Research.

Hodulik says the merger "is a way for SBC to jumpstart its growth in the enterprise space," something the company has said it plans to focus on. As for AT&T, its strategy to focus more on business customers and its recent decision to stop actively marketing its consumer services give the company a look and feel that make it more complementary to SBC than it would have been just a few years ago. Indeed, it continues to surprise many that AT&T has lasted this long as a standalone company (see Can AT&T Stand Alone?).

Also, analysts point out that if SBC owned AT&T's network, it could compete effectively with the other phone companies -- namely Verizon Communications Inc. (NYSE: VZ), BellSouth Corp. (NYSE: BLS), and Qwest Communications International Inc. (NYSE: Q) -- which operate networks in its region.

So far, investors have reacted coolly to the SBC/AT&T news, with AT&T and its fellow IXC MCI Inc. (Nasdaq: MCIP) having the only stocks to climb more than 1 percentage point during early afternoon trading on Thursday.

SBC was down $0.58 (2.36%) to $24.00, while AT&T shares shot up $1.17 (6.34%) to $19.62. Out of sympathy (and scarcity), MCI was up $0.73 (3.91%) to $19.39.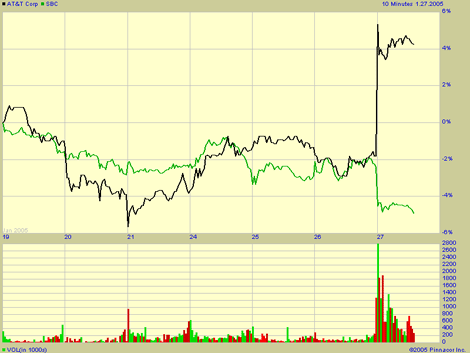 But the possibility of such a deal may set off a feeding frenzy by the nation's communications giants. Tom Cohen, a principal at KDW Group, a telecom consultancy firm based in Washington, D.C., says that if the SBC/AT&T deal happens, BellSouth and Qwest will probably look long at hard at MCI, with an eye to expanding into the enterprise market (see Qwest's Quest to Ditch Its Debt).

Cohen says Verizon may consider going after Sprint Corp. (NYSE: FON) (which is in the process of combining with Nextel Communications Inc.), which would give it traction in the enterprise while also propelling it back into the number one position in wireless.

All of these potential deals would have to undergo intense regulatory scrutiny by the FCC and state regulators, but analysts agree that the current regulatory climate is favorable to such deals. The recent combination of Cingular Wireless LLC and AT&T Wireless could be seen as a testament to how quickly consolidation can happen under the current regulatory regime (see Cingular Buys AT&T Wireless).

SBC and AT&T spokespeople would not comment on the merger reports.

— Chris Somerville, Senior Editor, Next-Generation Services