Patricia Russo has taken yet another top executive post at Lucent Technologies Inc. (NYSE: LU). In addition to CEO and chairman of the board, she is set to become COO, replacing Robert C. Holder, who will leave that post this summer.

"I decided that it was the right time to consolidate our top management structure and for me to manage operations more directly," Russo said in a prepared statement released today. A key motivator for the move, she indicated, was the resolution of Lucent's SEC investigation and shareholder lawsuits (see Lucent to Settle With SEC and Lucent Pays Big to Settle Claims). With those past, it seems there's less need for extra help at the top.

It's the second time Russo's moved to take over a post vacated by a top exec. This past February, a little over a year after taking over as CEO in January 2002, Russo announced she would also become chairman of the board as Henry Schacht stepped down (see Russo Rules at Lucent).

Analysts see it as a positive move. "If anything, it saves money," says Cobb Sadler of Deutsche Bank AG.

It may indeed. Robert Holder was among the executives given special retention awards to stay on through the company's restructuring after the dismissal of CEO Rich McGinn in October 2000. He was in fact awarded the highest such incentive -- $4.5 million (see Lucent Execs Get Richer and Execs Bag More Lucent Loot ).

That Russo's taking on yet another job may also help quell tongues wagging about her compensation. While Lucent has maintained that Russo's initial base salary of $1.2 million and one-time sign-up bonus of $1.8 million were in line with industry norms, some believed they topped the scale (see Post-Bubble Arrogance and Lucent Fat Cats Gorge in 2002). Clearly, though, she's working hard.

There may be other good reasons for Lucent investors to applaud the move. "It's a lot of hats to be wearing, but at a time like this, Lucent needs to be managed closely," says Steve Kamman of CIBC World Markets. When a company's struggling with the issues that Lucent is, decision-making's consolidated anyway, he says.

But the consolidation, Kamman warns, "doesn't do anything to change the fundamentals." Lucent's still struggling with its balance sheet and its strategy, despite the progress it's shown (see Lucent Grows Slightly, Loses Less). It's not clear how the new emphasis on services will play out, or how the product line will evolve to support that, he says.

Russo isn't the only exec who's wearing more hats than one these days. Frank Dunn continues to be both CEO and COO at Nortel Networks Corp. (NYSE/Toronto: NT), which hasn't had a full time COO since 2001 (see Nortel's Empty Room at the Top). Like Lucent, that company is holding its own (see Surprise! Nortel Earns a Profit). But the future's uncertain, no matter who's in charge.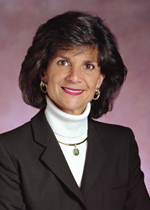 — Mary Jander, Senior Editor, Light Reading