It's official: Lucent Technologies Inc. (NYSE: LU) is Pat Russo's company. This morning, at its annual shareholders meeting, Lucent announced that its president and CEO, Russo, has succeeded Henry Schacht, as the company's chairman (see Schacht Out, Russo In at LU).

The move was widely expected. Russo took the president and CEO role at Lucent about 13 months ago, after a picturesque stint as president and COO at Eastman Kodak. At the time, Henry Schacht vowed to stay on at Lucent "for as long as I can be helpful."

"Henry Schacht returned to Lucent at the end of 2000 and laid out a plan that has allowed this company to weather many storms," says Russo in the company press release.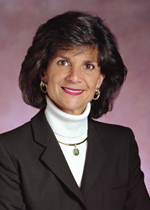 Schacht will remain on Lucent's board as an outside member and will continue to help Russo on items such as the company's Everest-high pile of pending litigation. "Pat really wants to concentrate on running the company, and Henry is well qualified to help with the company's defense against shareholder lawsuits," says a Lucent spokesman.

Since taking the helm at Lucent, Russo has cut thousands of jobs, lopped off several stagnant product lines, and formed unheard of industry alliances in an effort to make Lucent a simpler, profitable company (see Lucent & Cisco: Together at Last, Lucent Silences SpringTide, Lucent Chops TMX 880, and Lucent to Cut Headcount, Products). Her actions have cut Lucent's expenses by more than $4 billion, the company says.

Of course, all that restructuring costs a pretty penny. According to SEC filings, Russo has taken a $1.8 million bonus, in addition to a base salary of $1.2 million, for her work at Lucent. She's also gathered millions in stock options and restricted stock shares (see Lucent Fat Cats Gorge in 2002).

And while Russo was working her magic, Lucent's stock price has fallen like flan in a cupboard. Last year the company's stock traded below $1 for a time and faced the risk of delisting (see Lucent Dabbles Under $1).

But, on the heels of Russo's title change, Lucent's shareholders voted today to give the board the authority to perform a reverse stock split anytime within the next year in order to help the company lift its share price.

Lucent shares closed down $0.02 (1.12%) to $1.77 on Wednesday.

— Phil Harvey, Senior Editor, Light Reading