The Russian telecom market is on fire, and alternative operator Golden Telecom Inc. (Nasdaq: GLDN) looks to be taking advantage of that market. The company is set to announce its fourth-quarter and full-year 2003 results Thursday, with investors and suppliers looking for more good news from the business services player.

The Russian telecom market is benefiting from the improving health of the Russian economy in general. The country's GDP grew at about 7 percent in 2003 and is set to grow again by up to 5.5 percent in 2004, according to the Russian government. Monthly average wages have more than doubled since 2000, according to the Organization for Economic Cooperation and Development (OECD). Mobile services have been in particular demand in Russia, and cellular operators are investing for further growth (see Report: Europe Subs Top 100M and MTS Spends in Russia).

The market for corporate voice and data services is also growing strongly, according to analysts, and that's Golden Telecom's core sector. As the market has grown, Golden's business has burgeoned, and investors have seized on the upturn in the carrier's fortunes.

The chart below shows the dramatic rise in the operator's stock price that has seen its valuation nearly triple in the past year, from a 12-month low of $13.77 to a recent high of $34.65. The stock closed on Friday (March 5) at $34.45.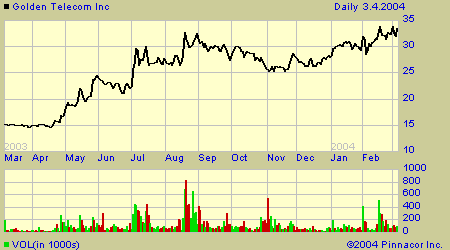 The carrier has managed to increase its revenues sequentially without sending its costs through the roof, resulting in steady and healthy quarterly net income, as shown in the following table.

Table 1: Golden Telecom Recent Key Financials (in Millions)

Sept 30 2003
June 30 2003
Mar 31 2003
Dec 31 2002
Sept 30 2002
Revenues
$90,095
$80,762
$78,376
$76,784
$46,376
Operating Income
$18,313
$17,399
$17,234
$14,314
$6,649
Net Income
$12,506
$11,835
$12,820
$12,945
$7,879
Source: company data




It's not just growing organically, though. The company has been acquiring smaller operators in the past few months (see Golden Telecom Buys Sibchallenge and Golden Telecom to Buy Comincom). The Comincom acquisition from Telenor ASA (Nasdaq: TELN) saw Norway's incumbent operator take a near 20 percent stake in Golden (see Telenor Fattens Stake in Golden). Telenor recently acquired a further tranche of shares for $1.17 million to take its holding to 20.5 percent.

Even without further acquisitions, Golden's revenues should continue to rise as Russian businesses seek greater business ties with Western Europe and the U.S. and spend money on their growing networking needs, according to Camille Mendler at Yankee Group. "There's a great desire in Russia to do business with the West, and that's making Russia the sexiest telecom market in Europe just now," says the analyst. "Lots of Russian businesses need decent connectivity, and most of those are concentrated in Moscow and St. Petersburg."

That's exactly where Golden Telecom has deployed kit from Nortel Networks Corp. (NYSE/Toronto: NT) to build metro Ethernet networks (see Golden Telecom Builds Ethernet MAN and Russians Pick Nortel Optical Ethernet). "Those Ethernet networks should make money hand over fist," says Mendler.

The carrier has also been building out its broadband access capabilities, using wireless DSL kit from Airspan Networks to offer high-speed access in the country's third largest city, Nizhny Novgorod, and two other cities close by, Ufa and Khabarovsk. Golden Telecom's marketing director Andrey Shishlo has stated that further wireless DSL deployments will be announced this year, while another Airspan wireless local loop system is now in trials in Moscow.

Golden Telecom isn't the only Russian operator investing in new broadband access gear (see MGTS Is Russian Into DSL Upgrade and Ericsson Wins Ethernet DSL Deal).

The operator is also working with AT&T Corp. (NYSE: T) to target the financial sector. The two carriers are working together to provide access for financial institutions to the Swift secure IP network in Russia.

Despite all these achievements, Golden Telecom is seemingly not keen to discuss its development to date or its future plans. Numerous calls and emails to the operator have not been returned, and even its equipment providers have been asked not to disclose any information that doesn't appear in official press releases. Perhaps this week's earnings conference call will provide more detail about the operator's strategy and outlook for the coming year.

— Ray Le Maistre, International Editor, Boardwatch