We broke up the content of this massive test into two pieces: This is the first of two test features, and this one deals with the network infrastructure backbone and IP radio access network (RAN) tests.

The second article – to be published soon – will focus on mobile core and application services testing.

The first section represents the "traditional Cisco" part: to design and build wireline data networks for integrated and sometimes application-aware services. We emulated 2G, 3G, and LTE mobile application data flows only – to keep the scale requirements and the complexity of the tests at a reasonable level. Nevertheless, wireline residential and business applications for DSL and cable networks, such as the ones focused in our Medianet test, could be added by increasing the number of nodes and links. (Cisco's network design is based on Multiprotocol Label Switching (MPLS), similar to the Medianet test.)

Whenever we have asked service providers about the major challenges for packet-based backhaul networks, the responses were consistent: clock synchronization, scale of evolved 3G and LTE data traffic, service level guarantees for voice traffic, and multi-point service types required by LTE. At the same time, all the major markets worldwide see multiple GSM operators, so competitive pricing is a key aspect above all. Depending on whom you ask, there is a certain sense of urgency to different aspects:


The North Americans mostly wrestle with interactive data traffic and improving network coverage – translating into more cell sites and more (Ethernet/IP) bandwidth to each of them. It does not come as a surprise that they trust in the US government's willingness to deliver clocking through Global Positioning System (GPS) all the time, so network-based clock synchronization is not a major topic for them. (See Telecom Market Spotlight: North America.)


The Europeans have had GSM and UMTS networks for a long time, resulting in a huge amount of legacy E1-attached equipment that needs to be serviced at lower cost in the future. The run for mobile broadband services with laptop dongles has become a major competitive differentiator – the operator with the best backhaul and infrastructure core will win most business subscribers. Subscribers seem to be aware that the downside of network neutrality is a lack of guaranteed service levels so traffic management of bulk services (such as non-interactive HTTP and peer-to-peer applications) is mostly accepted below the surface and is a matter of fact. (See Telecom Market Spotlight: Europe II and Telecom Market Spotlight: Europe.)

European networks have a large number of Picocell sites in buildings and underground public transport, so network-based clock synchronization is a key asset to save backhaul cost (if it works).


As diverse as regional markets are in the Middle East and Asia/Pacific, they share a need for very competitive, large-scale deployments. In most areas, pricing is very low, down to $10/month for voice and $40/month for flat rate data services – and the average revenue per user (ARPU) keeps dropping. At the same time, countries such as India, Indonesia, and China are adding tens of millions of new subscribers each quarter. The major needs in this area are all-in-one, low-cost, large-scale networks. It would be good to add some better call quality in some areas (guaranteeing voice quality in the network and cell site availability), as a side-note requirement for the future. LTE is only a concern for the more elaborate markets like Singapore. (See A Guide to India's Telecom Market, Telecom Market Spotlight: Middle East, India Adds 18M Subs in June, SingTel Shows Off LTE, and Telecom Market Spotlight: Asia.)


How did we map all these requirements into a single test setup? It was a straightforward exercise, since we always keep the pricing aside: We just added all the market requirements to the design requests we sent to Cisco. Our network had to be ready for large-scale data services, feature 2G/3G/LTE migration, provide clock (frequency and phase) synchronization at its best, and it had to be resilient in the backbone and the access and show differentiated quality of service.

Once we delivered this challenge to Cisco in January this year, they chewed on it for awhile and returned a design and implementation guide to us a month later. Cisco used this guide, now in its 30th version after numerous joint revisions, as the basis of the test network.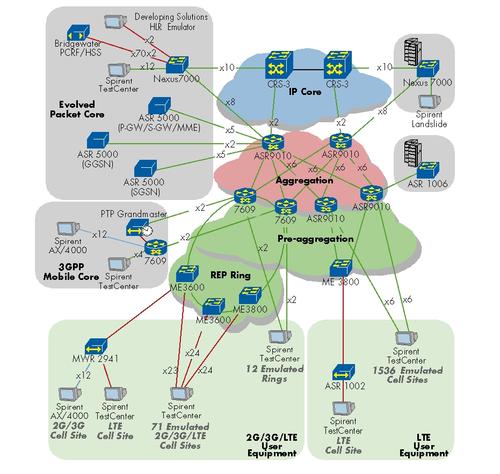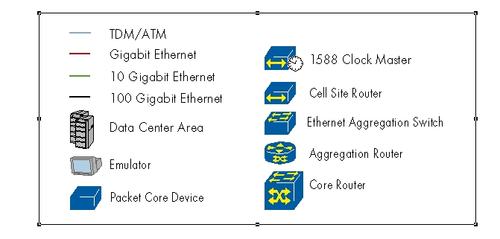 The diagram above is the overall physical topology of all nodes in the network and the directly attached test equipment (more details on the test gear on the next page). The ASR 5000s, taking on a different role depending on whether the network was configured for LTE or 3G (or in the case of a handover demo – both, amongst a pair of devices), are labeled as such in their test-specific diagrams, which can be found in the next article of this series.

From the user side up, it is clear that Cisco is using two distinct models in the same network – one for those looking to deploy a hybrid of 2G/3G/LTE, and another for greenfield LTE deployments. Each has its own parallel access and initially parallel aggregation systems (7609 on one hand, ASR 9010 on the other). However these converge for LTE traffic headed to the Evolved Packet Core (EPC). Finally, up top one will find the unified IP core, where post-mobile-core traffic of any mobile technology would go out to the Internet. The tables below outline how many emulated cell sites of each type we had, what services were emulated behind each, and how many users (or streams) were created for that emulation. (See Evolved Packet Core for LTE.)

Table 1: 2G/3G/LTE Traffic Table

Traffic Type
Description
Downstream Bandwidth per Session (Mbit/s)
Sessions per Tower
Bandwidth per Tower (Mbit/s)
Packet Size (Bytes)
DiffServ Class
2G(TDM)
Voice and Data
0.025
226
5.67
280
Expedited Forwarding
3G (ATM Data)
Voice
0.020
406
8.12
512
Best Effort
3G (ATM - Real time)
Data
0.134
95
12.77
64
Expedited Forwarding
LTE (Real time - Network)
X2 Interface (control plane)
0.026
11
0.29
1,024
Expedited Forwarding
LTE (Real time - User)
Voice
0.020
40
0.80
64
Expedited Forwarding
LTE (Streaming)
IP Video, Multi-media, Webcast
0.342
10
3.42
1,024
Class 4
LTE (Interactive)
Web browsing, data base retrieval, server access
0.323
8
2.58
512
Class 2
Number of Any-G Cell Sites: 864
Source: EANTC
Table 2: All-IP LTE Traffic Profile
Traffic Type
Description
Downstream Bandwidth per Session (Mbit/s)
Sessions per Tower
Bandwidth per Tower (Mbit/s)
Packet Size (Bytes)
DiffServ Class
LTE (Real time - Network)
X2 Interface (control plane)
Not seen by transport network
1,024
Expedited Forwarding
LTE (Real time - User)
Voice
0.020
271
5.42
64
Expedited Forwarding
LTE (Streaming)
IP Video, Multi-media, Webcast
0.352
67
23.59
1,024
Class 4
LTE (Interactive)
Web browsing, data base retrieval, server access
0.356
50
17.78
512
Class 2
LTE (Background)
E-mail, SMS, peer-to-peer
0.349
70
24.43
512
Best Effort
Number of All-IP Cell Sites: 1536
Source: EANTC
Page 3:
Testing Hardware Used