This report series documents the results of a Cisco IP video infrastructure, applications, and data center test. Earlier this year, following months of talks with Cisco Systems Inc. (Nasdaq: CSCO), Light Reading commissioned the European Advanced Networking Test Center AG (EANTC) to conduct an independent test of a premium network solution to facilitate advanced IP video services for service providers, enterprises, and broadcasters alike.

It's an understatement, but we'll say it anyway: Carriers are concerned whether their service delivery networks will scale to the forecast exponential growth of video services.

In today's competitive environment, both telcos and cable companies see the future as one IP-based network that helps to provide more flexible services. But those networks, however operationally complex, need to be manageable. And these companies need to support advanced IP video services, specifically meeting broadcaster, consumer, and enterprise requirements for HD video distribution.

So it's no wonder service providers are so tough on telecom equipment makers. And it's no wonder that some telecom equipment makers are choosing to lead the discussion on IP video, rather than waiting for their customers to ask for tomorrow's network today.

The zettabyte diet
Cisco Systems Inc. (Nasdaq: CSCO) has been spreading the zettabyte-era gospel since mid 2008. If one network-based application could really drive traffic towards the zetta mark (1 sextillion bytes), IP video would be everyone's first bet. And these days the term "IP video" has moved on from a basic walled-garden IPTV idea to a fairly open concept.

Hulu LLC , for example, just launched an over-the-top desktop application, while Boxee is gaining ground, and AT&T Inc. (NYSE: T)'s U-verse service is delivering the Masters Tournament to its subscribers on three screens. For Cisco this must all sound great – service providers require more bandwidth in their core and aggregation networks, universal broadband access coverage, and more routers and switches out of the factory. (See Cisco: Video Will Be Half of IP Traffic by 2012, Hulu Launches Desktop App, and AT&T Delivers Three-Screen Masters Coverage .)

Cisco's Medianets
As it has shown in the past, Cisco understands the implications of bandwidth explosion both in the residential and in the enterprise world. In the latter, Cisco is already considered a fixture but it has not been resting on its laurels. Cisco has been busy adding enterprise-focused applications such as telepresence, video surveillance over IP, and digital signage to its arsenal. Cisco has described its IP, media-aware infrastructure initiative using the term "medianet" since December 2008. The company's CEO, John Chambers, put his full force behind the story. (See Cisco's Video Blitz and How Cisco Does It.)

So Cisco has a point in analyzing the market and coming up with a marketing strategy that matches the needs of service providers. But how much of the story can it actually deliver today? Was there a chance Cisco would be ready to submit equipment and support for a test of Medianet?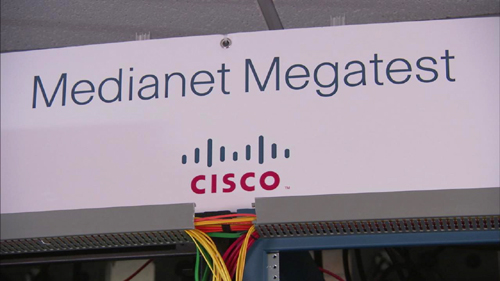 The Megatest
Actually, Cisco welcomed the idea – quickly realizing, however, that this effort would be monumental compared to any equipment test ever published in a magazine in our business before. A six-month program was installed; fifteen business units got involved; Cisco's senior vice president for central development organization backed the project; and it quickly adopted the name "Megatest" until the team converged on the more realistic name of "Über Megatest."

In an unprecedented testing campaign, European Advanced Networking Test Center AG (EANTC) was commissioned by Light Reading to investigate all of a medianet's aspects: We started from Cisco's network infrastructure supporting enterprise and residential customers as well as a purpose-built network for broadcasters. We then moved on to the comfort of the end-user's home and looked at the applications Cisco says it can bring to the market. And we closed with a focused investigation into Cisco's service provider data center solutions, which we will cover in a separate special report next week.

The tests covered the following main areas:


High availability with sub-second failover time for all network services
In-line video quality monitoring
Massive scalability of IP video services
Storage area network solutions and virtualization


In addition, we received extensive demonstrations from Cisco showing both residential and enterprise applications. These will be documented in the next article in this series, coming later this week.

Results snapshot
In short, Cisco's medianet solution showed excellent results:


8,188 multicast groups were replicated across 240 egress ports in a point of presence (PoP), showing that Cisco could serve 1.96 million IP video subscribers in a single metro PoP.
Accurate in-line video monitoring was demonstrated for video distribution and contribution over IP.
Sub-50 millisecond failover and recovery times were shown for video distribution and secondary distribution networks using, for the first time in a public test of Cisco equipment, point-to-multipoint RSVP-TE.
No video quality degradation in the face of realistic packet loss in the network
Excellent quality of service (QoS) enforcement in Cisco's new ASR 9010 router for both fabric oversubscription and head-of-line blocking
Hitless control plane failover for converged network
In the world's first test of this breadth and width, Light Reading and EANTC have found that IP infrastructure from Cisco really does deliver. This is the first in a three-part report series wherein Light Reading and EANTC will share these groundbreaking results.

In this report, we cover Cisco's medianet service delivery network. Here's a hyperlinked table of contents: