CHICAGO -- Supercomm 2009 -- You have to like it when someone sneaks his own router into a Cisco Systems Inc. (Nasdaq: CSCO) party.

On Wednesday, that was Richard Norman, founder of core-router startup Hyperchip Inc.

Yes, Hyperchip is still alive, pursuing something smaller than its original big-iron product: the H40G, a very dense pizza-box router that can handle 60 Gbit/s of Ethernet or 40 Gbit/s of Sonet.

Moreover, the router card that powers the H40G could theoretically be added to an optical system, turning it into a makeshift packet-optical transport system (P-OTS).

The aspect of the router that Hyperchip is emphasizing is the small size. Norman carried it around Supercomm in a shoulder bag all day yesterday, showing it to anybody who would listen. (Norman is an exceptionally chatty guy.) He even included it in his carry-on luggage on the flight to Chicago.

And, naturally, he had the router handy when Light Reading caught up with him yesterday evening at Cisco's Exception Reception, held in a ballroom near the Supercomm exhibit floor. It was an open-invitation affair, with no one at the door checking for badges or for routers in shoulder bags.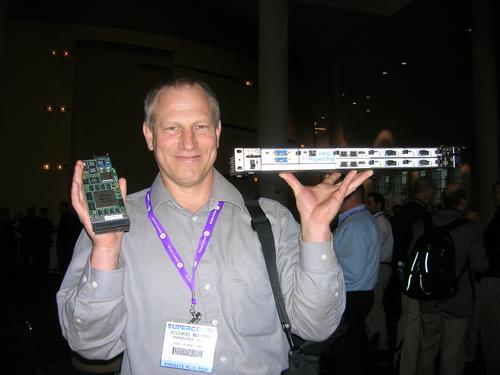 Hyperchip was one of the many core-router startups storming the market circa 2000. By 2004, it was clear that core routers weren't the key to startup success, and Hyperchip had to refinance and regroup. (See Hyperchip Trims, Hunts for Funds and The Core Was Rotten for Startups.)

For its second act, Hyperchip is taking advantage of advances in chip technology. The router card that powers the H40G is based on a Field Programmable Gate Array (FPGA), specifically, the Stratix IV GT from Altera Corp. (Nasdaq: ALTR). It also uses a NetLogic Inc. chip to store routing tables and retrieve data from them.

"We put a lot of nine-year-old FPGAs into one FPGA," Norman says, referring to the fact that more of Hyperchip's technology can be crammed into a smaller space on a chip these days. "Moore's Law is kind to hardware."

The card is the real star of the show. "We can sell a few of these," Norman says, indicating the H40G, "but if someone else embeds it in their Layer 1 or Layer 2 [gear], all of a sudden their crossconnect is a router."

Traffic that has to be terminated at that particular node would normally be handled by a neighboring router. Norman envisions the optical equipment using his router card to do the job. "This saves them a box," he says.

It's an idea that would tie in with the industry's talk of converging the packet and optical networks, using P-OTS gear as the link between the two. (See Juniper's Packet-Optical Spells M-P-L-S, Packet Optical Transport Goes for the Long Haul, Ciena Catches Packet/Optical Convergence Bug, AlcaLu Makes Its Packet-Optical Move , and Cyan Plays God With Optical.) Hyperchip isn't at a point where it can start shipping the H40G, but it's got some potential customers that are scheduled to get the router into "serious testing" in January or February.

So, what's this company been doing for the past several years? Norman says Hyperchip has survived on specialized contracts. The company hasn't had to go back to the venture capital well, other than the one VC firm that helped with the 2004 relaunch.

"They were the good ones, the ones who helped us," Norman says. "Not the ones who... well, I'll just say 'no comment.' "

— Craig Matsumoto, West Coast Editor, Light Reading