SAN MATEO, Calif. -- The regime change at Juniper Networks Inc. (NYSE: JNPR) has claimed a victim. Juniper has retired its cartoons.

The shocking news was delivered bluntly, without warning, by new chief marketing officer Lauren Flaherty at Juniper's analyst conference today.

The audience responded with a smattering of spontaneous applause, followed by one "boo" that didn't seem very heartfelt.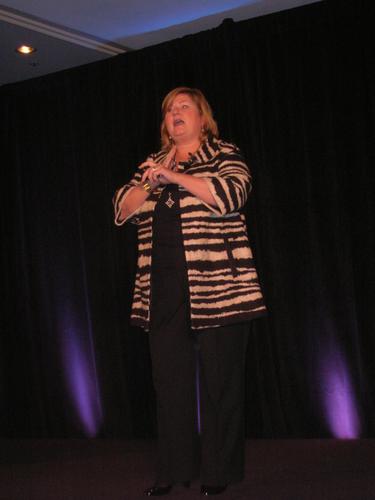 Flaherty, who joined Juniper four weeks ago, introduced a new campaign, at least for Juniper's enterprise sales efforts. It will use the phrase "Demand more" and will target enterprise customers by trying to "reinforce the notion that you've got choice," she said.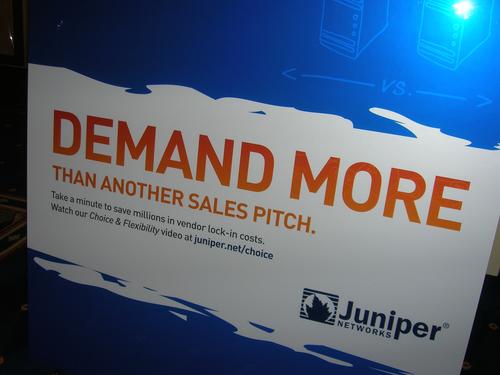 But why? Why???

"Devices tire over time, so you have to keep them fresh, and companies mature," Flaherty said. "We need a marketing proposition that can grow with us." [Ed. note: This sounds like a different company than the one that used to sue anonymous message board users.]

The Far Side-inspired cartoons started in 2003 while Christine Heckart was vice president of marketing. At first, they were part of an ad campaign throwing pot shots at Cisco. (See FTTH Comms Picks ADC Gear.) Soon after, the cartoons became the face of Juniper, appearing on the Website and even on executive presentations. Industry reaction wasn't universally favorable. [Ed. note: Uh, yeah. We know how that feels.]

Heckart left Juniper in 2005 to join Microsoft Corp. (Nasdaq: MSFT). (See VP Jumps From Juniper.)

Cisco Systems Inc. (Nasdaq: CSCO) was too chicken to comment. Larry, Light Reading's mascot monkey, didn't seem to side with his cartoon brethren in their moment of crisis. "They were too subtle," he said, while spinning around in his Aeron chair and waving a pistol. "You can't keep anyone's attention by doodling about routers. Wheee-he-heeee! (Bang!)"

Juniper appears to have already removed the cartoons from its Web site. If you've somehow never encountered them, you can find samples around the Web, with helpful tips on averting disaster, booking UFO travel, or guarding a cave? Or something?

— Craig Matsumoto, West Coast Editor, Light Reading