Cisco Systems Inc. (Nasdaq: CSCO) is upgrading its core router, boosting the CRS-1 to what it claims is 12 times the capacity of the nearest competitor, the company announced today during a widely publicized Webcast. (See Cisco Intros the CRS-3.)

The CRS-3, as the new router is named, can deliver 322 Tbit/s, Cisco officials said in today's announcement. That's probably in a multichassis implementation; the CRS-1 can reach a claimed 92 Tbit/s, but only if 72 of them are linked together.

That stonking level of capacity is the crux of what has been touted (by Cisco) as a world-shaking event. In Apple Inc. (Nasdaq: AAPL)-like lingo, the router giant has been proclaiming for weeks that today's announcement would "forever change the Internet." (See Rumor: Cisco to Reveal Access & Core Plans.)

The move reasserts Cisco's router bragging rights. The company had fallen behind in certain core router metrics during the past year or so, as the CRS-1 handles only 40-Gbit/s interfaces; Alcatel-Lucent (NYSE: ALU) and Juniper Networks Inc. (NYSE: JNPR) have already announced plans for 100-Gbit/s (or more) interfaces. (See Rumor: Cisco Prepping CRS-1 Successor, AlcaLu Readies 100GigE Cards , and Juniper Claims 100-Gig First.)

But it's about more than just bandwidth. Cisco has staked its future on video, claiming that the network has to be designed differently. One key driver will be the way data centers connect to one another, which, in turn, will determine "how the content gets moved closer and closer to the devices," said Suraj Shetty, Cisco's vice president of service provider marketing, during the Webcast. "IP core becomes one of the fundamental foundation elements of building the next-generation Internet."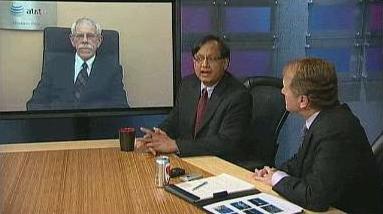 To that end, Cisco is introducing the Network Positioning System for tapping virtualized resources. Cisco cited the example of a workplace at the end of a quarter: When network activity suddenly swells, the NPS will seek out the computing and storage resources that are needed, regardless of location, and will provision its own virtual private network (VPN) to reach those resources.

In that way, Cisco sees the CRS-3 working closely in conjunction with the Universal Computing System, Cisco's all-in-one data center package. (See Cisco Dreams of Data Center Unity.)

Cisco officials say the CRS-1 can be upgraded, in-chassis, to become a CRS-3, echoing the way Juniper can upgrade its T640 core router to a T1600. Officials also stress that today's announcement doesn't mean the CRS-1 is being discontinued.

As for changing the Internet, Cisco claims it's got many more announcements to come, connecting all parts of the network down to even consumer devices. The Starent acquisition, which gives Cisco a foothold in the mobile core network, will end up relating to today's announcements as well. (See Cisco to Buy Starent for $2.9B.)

The CRS-3 is in customer trials. In fact, AT&T Inc. (NYSE: T) says it used the router in the live-network 100-Gbit/s test announced yesterday. (See Opnext Makes Its 100G Move.) Cisco expects to make it generally available in the September quarter.

— Craig Matsumoto, West Coast Editor, Light Reading