Telecom spending for 2003 will definitely be lower than it has been in several years, but prospects for IP routing aren't as bad as one might expect.

Both local incumbent carriers and Internet backbone providers will have reason to spend on IP routing in the coming year.

"There is some hope that capex budgets are finally stabilizing," says David Gross, an analyst with Communications Industry Researchers Inc. (CIR). "This doesn't mean that recovery is around the corner, but I think it's a good sign for IP routing."

The November 2002 Optical Oracle, Light Reading's paid research product, surveyed spending patterns among eight carriers. The chart seen below shows that overall capital expenditure has declined 44 percent in the first three quarters of 2002. This is a huge drop from last year's spending, but it looks as though the cuts may be stabilizing. Spending actually increased slightly in the second quarter of 2002, but carriers then decreased it again in the third.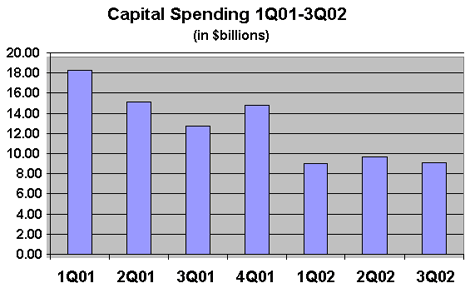 Regional Bell operating companies (RBOCs), like Verizon Communications Inc. (NYSE: VZ) and SBC Communications Inc. (NYSE: SBC), are expected to build new networks as they move into long-distance markets, state by state. This has created a lot of buzz, as equipment vendors clamor to be included in the testing process (see Verizon Talk Stokes Stocks). Cisco and Juniper Networks Inc. (Nasdaq: JNPR) have been mentioned in these deals.

Interexchange carriers (IXCs) are also expected to spend incrementally on new equipment upgrades in 2003. In the past year, these carriers have slashed their spending dramatically. During the boom times, IP router spending jumped 200 percent from 1999 to 2000, according to Infonetics Research Inc. It only dropped from that level by 8 percent the following year. But this year, spending was cut by 50 percent from 2001 levels. Some experts say their spending could pick up slightly next year.

"In the next 12 to 18 months Internet traffic growth and new router technology will push them to upgrade," says Kevin Mitchell an analyst with Infonetics. "But you have to keep in mind that their overall budgets are much lower this year, so it won't mean any huge amount of growth."

While IP traffic growth has fallen off in recent years, the fact is that it's still growing. In 2001 the average growth rate of IP traffic in the U.S. grew about 100 percent according to Probe Research Inc. For 2002, that rate has fallen to 76 percent. And in 2003, Probe expects it to fall yet again to 56 percent. Even with this decline, carriers need to keep up with demand, says Gross of CIR.

Vendors are also coming out with third-generation IP routers that offer more carrier-class redundancy and resiliency. With a host of new features -- including nonstop routing, nonstop forwarding, and dual switch fabrics -- carriers can deploy one router instead of two at each location.

"This means that they can buy fewer boxes per core node," says Mitchell. "It will reduce capital costs as well as reduce operational costs associated in managing the boxes."

So who's likely to benefit the most from this spending? Cisco Systems Inc. (Nasdaq: CSCO) seems to be the front runner. The vendor has steadily been gaining market share during the past two quarters in both edge and core routing, according to Infonetics.

Not only are Cisco routing products being considered by every RBOC, its current IP backbone customers also happen to be among the healthiest financially. For example, AT&T Corp. (NYSE: T), which has traditionally been a Cisco IP router customer, spent $2.06 billion in the third quarter of 2002, according to the Optical Oracle report published this month. Verizon is the only carrier surveyed that spent more, spending $2.6 billion in the third quarter. Out of the five solvent providers in the report, AT&T was also the only carrier to show an increase in capital spending from the second quarter.

What's more, AT&T has been increasing its penetration into the WorldCom Inc. (OTC: WCOEQ) network, which has resulted in a 350 percent jump in IP traffic on its network.

"AT&T will definitely be doing a major upgrade next year," says Frank Dzubeck, president of Communications Network Architects Inc. "They'll be buying a lot more of what they already have."

This upgrade is also good news for Avici Systems Inc. (Nasdaq: AVCI; Frankfurt: BVC7), which has a contract with AT&T for its core routing platform the TSR.

Sprint Corp. (NYSE: FON), another big Cisco routing customer, will also likely be upgrading its network as it has also taken on extra customer traffic from WorldCom's network, says Dzubeck.

Juniper Networks Inc. (Nasdaq: JNPR), the other major routing player, is looking to rebuild a more RBOC-focused customer base after taking some blows in the IXC market. WorldCom, which is currently in bankruptcy, had consistently been a ten percent customer for Juniper throughout 2001 and the early part of 2002, according to filings with the Securities and Exchange Commission (SEC). Currently, the company sees most of its business coming from reseller agreements with LM Ericsson (Nasdaq: ERICD) and Siemens AG (NYSE: SI; Frankfurt: SIE).

Last week, Cable & Wireless (NYSE: CWP), another strong Juniper customer, announced that it's restructuring its business. The carrier, based in the U.K., plans to disband part of its U.S. and continental European business to focus on multinational customers. It's already planning to shut down half its points of presence in the U.S. and will layoff 3,500 workers (see C&W Preparing to Sell US Network?). Folks at Cable & Wireless remain hopeful that its planned upgrade will continue.

"Contrary to press reports, we are still in the U.S. market," says David Garbin, senior director of strategic network planning for Cable & Wireless. "The timetable is still being worked out, but our strategic direction should remain unchanged."

Paul Sagawa, an equities analyst with Sanford C. Bernstein & Co. Inc. says he expects much spending from other backbone providers. He says that even if carriers like Global Crossing Holdings Ltd. and PSINet Inc. come out of bankruptcy, they won't be likely to jump into big network upgrades.

"There are a lot of IXCs that will be in the business," he says. "And then there are those that are fantasizing."

— Marguerite Reardon, Senior Editor, Light Reading
www.lightreading.com

Editor's Note: Light Reading is not affiliated with Oracle Corporation.