Carriers will spend $33.6 billion on software to automate the acceptance, fulfillment, and billing of orders for services in 2002, according to a new report from RHK Inc. By 2005, the firm predicts, worldwide spending on so-called operational support systems (OSSs) will reach a stunning $49.6 billion -- roughly the equivalent of the entire gross national income of New Zealand in 2000.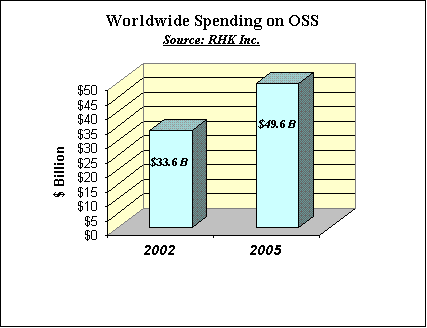 Yes, that's billion. B-I-L-L-I-O-N. Billion. But RHK senior analyst Patrick Kelly says that figure includes a lot more than just revenues for products.

"People assume that figure is just commercial spending, but it includes software developed in house as well as payment for outsourcing to systems integrators," he says.

Indeed, RHK says more than half the OSS money worldwide is being spent to pay in-house programmers and developers to tweak and add to large, complicated OSSs already existing in their networks -- things like billing and customer care software and service order fulfillment code.

"People don't realize how large a market this is," says Kelly [ed.note: no kidding]. He says Verizon Communications Inc. (NYSE: VZ) alone spent $39 billion on operating and support expenses in fiscal 2000.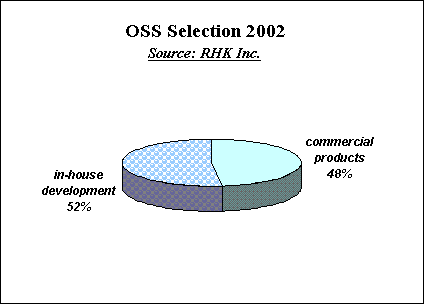 Commercial OSS products typically have only 60 percent of the functionality required by service providers, Kelly says. The rest needs to be created, usually in a custom manner to fit a carrier's roster of software. This assures that even as carriers reduce their staffs and turn to outsourcers for help, the tab for services associated with OSS development will stay high.

Who are the key suppliers? It depends on what segment of the OSS market one looks at, and in what part of the world. In North America, which accounts for about 42 percent of OSS sales, Telcordia Technologies Inc. continues to lead sales of service order fulfillment and assurance OSSs. Telcordia's offerings include licensed software, professional services, and a lucrative business in Osmine certifications, which guarantee that equipment from third-party vendors will work properly with the Telcordia OSSs in a carrier's network (see Telcordia's Osmine Goldmine).

"Equipment vendors aren't happy when they spend $4 million to $5 million to get Osmine certification, but if you want to play, you have to pay," says Kelly.

Indeed, Osmine certification is considered by many to be a prerequisite for dealing with the U.S. RBOCs.

Some carriers are chafing at the Telcordia bit themselves, Kelly says. But even if they'd like to get rid of some of the older Telcordia software in their networks, it's a difficult process. If a new project is introduced, it needs to be able to work with older software during transition phases. And if Telcordia doesn't stamp its approval on new programs, it can pull its support, leaving carriers in a tough position when it comes to managing their networks.

A handful of other players -- including makers of monitoring gear such as Agilent Technologies Inc. (NYSE: A) and Spirent PLC (NYSE: SPM; London: SPT), as well as fault and performance measurement vendor Micromuse Inc. (Nasdaq: MUSE) -- earn more than $100 million annually from the telco OSS business, RHK says. While there are more than 200 smaller players, the firm projects ongoing consolidation as the downturn continues.

Over the next three years, the OSS market will grow at roughly 14 percent annually, RHK says.

— Mary Jander, Senior Editor, and Stephen Saunders, Founding Editor, Light Reading
http://www.lightreading.com