Service providers increased spending on routers in the second quarter of 2003, say market researchers.

According to Synergy Research Group Inc. and Gartner Inc., service provider sales for both edge and core routers picked up between 5 and 7 percent in the second quarter (see Gartner: SPR Market Rebounds).

The biggest boost of growth was in the core router market. Synergy and the Dell'Oro Group reported 7 and 10 percent increases in this market. All four of the main core router vendors reported an increase in sales, something that hasn't happened in nearly two years, says Susana Vidal, an analyst with Synergy. The second quarter of 2003 was the first time since the third quarter of 2001 that sales in the core router market grew in any meaningful way, she notes.

The service provider edge router market also grew to $370 million in the second quarter of 2003 from $347 million in the first quarter, marking the third consecutive quarter of growth for this market, says Vidal.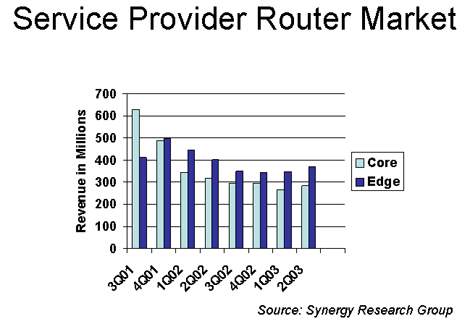 These market figures coincide with details disclosed in recent earnings reports from top router vendors. Cisco Systems Inc. (Nasdaq: CSCO) CEO John Chambers told investors on the company's August 5, 2003, call that low-end router bookings were somewhat disappointing, but orders for high-end routers, which are typically sold to service providers, were up sequentially (see Investors Sell the Cisco News). Juniper Networks Inc. (Nasdaq: JNPR), which sells almost exclusively to service providers, also saw growth in sales in the second quarter (see Juniper Beats, Forecast Flat).

So does this mean the service provider market is in recovery? Not exactly...

"We're definitely seeing a trend in the edge," says Vidal. "And the growth in the core is impressive. But I wouldn't bet on the same level of growth in the next quarter."

Service providers have started a new cycle of investment, adds Vidal. But vendors like Cisco and Juniper are still predicting flat to slightly up sales in the third quarter of this calendar year. On Cisco's earnings conference call earlier this month, CEO John Chambers warned investors that core routing revenue can be lumpy.

Let's look at some of the specifics.

Synergy reports that core router revenue was about $285 million out of a total worldwide router market of about $1.4 billion. These sales were up 7 percent from the previous quarter. Cisco saw its GSR core router sales increase by about 6 percent, says Vidal. Juniper increased its core router sales by about 3 percent. Alcatel SA (NYSE: ALA; Paris: CGEP:PA) and Avici Systems Inc. (Nasdaq: AVCI; Frankfurt: BVC7) saw revenue increases of 102 percent and 20 percent, respectively.

Alcatel and Avici were the only two vendors to gain market share in the second quarter, though their revenues are much smaller than Cisco and Juniper's, so they are easier to boost. Alcatel, with its 7770 OBX, increased its market share to 2.9 percent in the second quarter, up from 1.6 percent in the first quarter. Avici increased its share of the market to 2.8 percent from 2.5 percent in the first quarter.

Cisco and Juniper, the two leaders of the market, neither gained nor lost share relative to the other. Cisco ended the second quarter at 73.8 percent, down ever so slightly from 74.1 percent of the market in the first quarter. Juniper's share also fell slightly to 21.0 percent from 21.8 percent. Their small loss of share appears to have come at the hands of Alcatel and Avici selling a few more routers

Service providers also increased their spending on edge products for the third consecutive quarter. Synergy divides the market into three categories -- IP edge routers, broadband aggregation and subscriber management devices, and IP service switches. These combined markets generated about $370 million in revenue for the second quarter of 2003. This was a 6 percent increase from the previous quarter.

Cisco dominated the edge with 64.7 percent market share, down slightly from 65.9 percent the previous quarter. Juniper held relatively steady with 20.6 percent of the market. Nortel Networks Corp. (NYSE/Toronto: NT), with its Shasta IP service switch product, increased its edge share to 8.1 percent from 5.0 percent in the first quarter. CoSine Communications Inc. (Nasdaq: COSN) also increased its market share to 1.3 percent from 0.5 percent. Redback Networks Inc. (Nasdaq: RBAK) lost market share on the edge. It had about 4.5 percent of the market in the second quarter down from 7.1 percent in the first.

Most of the edge equipment growth came from the sale of B-RASs (broadband remote access servers) and IP service switches. The B-RAS market generated $69 million in revenue for the second quarter, an 11 percent increase from the first quarter of 2003. The IP service switch market was up 79 percent to $24 million in sales. IP edge router sales grew 2 percent from the previous quarter, bringing in about $275 million in sales.

"Service providers are starting to implement more IP services, like IP VPNs," says Vidal. "Also, broadband deployments are increasing the need for more B-RAS gear. It's these factors that are really pushing growth in the edge."

— Marguerite Reardon, Senior Editor, Light Reading