Businesses with large investments in frame relay networks aren't looking to change anytime soon, according to a recent report from Vertical Systems Group.

A survey of over 600 U.S. enterprise customers conducted by the firm indicates business are satisfied with frame relay's cost and convenience, compared with the private lines they formerly used.

"Certainly, IP VPN growth is there, but none of our research suggests a large-scale swapout of frame relay for IP VPNs," says Erin Dunne, director of research services at Vertical.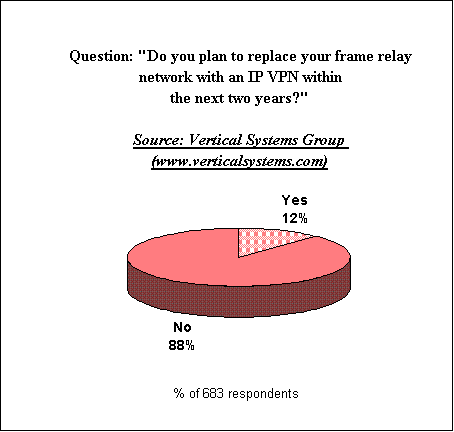 Further, Dunne says businesses willing to launch a complete replacement represent just 7 percent of the total frame relay locations overseen by survey respondents.

"Typically, businesses are making the transition for smaller networks or for a limited number of sites," she says.

Why aren't more big companies moving to IP VPNs? Dunne says many of these customers see frame relay and even Asynchronous Transfer Mode (ATM) as a more reliable means than Internet Protocol (IP) for supporting multiprotocol traffic containing legacy protocols such as IBM's SNA.

It also seems that companies aren't motivated yet by the economics of making a change. If prices are higher without a sizeable payoff, it's no go (see Readers Take Shots at IP VPNs ).

Vertical's still tallying survey results to find out the percentage of customers that may be adopting IP-based "transition services" that allow them to keep their frame relay networks but tack on IP VPNs (see Crossing Over to VPNs).

But Dunne says it's not clear these customers will move to expand their IP VPNs in the future. Indeed, she thinks such transition services are really a compromise for companies with pockets of IP traffic that continue to subscribe to frame relay as the prime mover of multiprotocol data.

The migration to all-IP will take a long time. "Frame relay's been around for ten years. You can expect that sort of ramp-up for IP VPNs," says Dunne.

— Mary Jander, Senior Editor, Light Reading