Sales of carrier VOIP equipment hit $389 million in the second quarter of 2004, according to the latest figures from Infonetics Research Inc., up from about $350 million in the first quarter and $321 million a year earlier (see Infonetics: VOIP Gear Sales Rise).

Analyst Kevin Mitchell says just about every VOIP gear niche sector is hot at the moment, though sales of media servers (up 56 percent from the first quarter), session border controllers (up 24 percent), and media gateways (up 22 percent) were sizzling.

Total sales of session border controllers, which interconnect multiple IP networks and manage IP sessions across those networks, were just $13 million in the second quarter. Mitchell says many of the niche sector's startups achieved record quarterly sales in the three months to the end of June.

And, although he wouldn't divulge actual sales figures or market shares (because of non-disclosure agreements), the analyst says the top three session controller vendors by revenues in the second quarter were (in alphabetical order) Acme Packet, Netrake Corp., and NexTone Communications Inc.

But the market is still in its infancy, and Infonetics expects annual sales of session border controllers to hit $434 million in 2007. Other research firms believe the market will be even bigger (see Session Controller Market to Explode).

Other session border controller vendors include Ingate Systems AB, Jasomi Networks, Kagoor Networks, Newport Networks Ltd., MediaRing Ltd., and MERA Systems Inc.

Mitchell also noted a shift in softswitch revenues, where sales of Class 5 switch replacement systems are increasing and catching up with revenues derived from Class 4 replacement systems, a trend noted yesterday in a conference call hosted by Sonus Networks Inc. (see Sonus: Whew!).

Infonetics believes sales from the two types of softswitch applications will become equal at some point in 2005, after which sales of Class 5 systems will generate greater revenues (see chart below).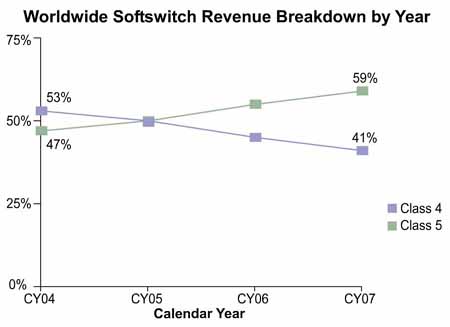 Infonetics forecasts that carrier VOIP equipment sales will reach $462 million in the first quarter of 2005, and generate $4.8 billion in 2007, up from $1.3 billion in 2003.

— Ray Le Maistre, International News Editor, Light Reading