Report: Multiservice Is In
File under: Believe it or Not. Multiservice provisioning platforms (MSPPs) seem impervious to the telecom slowdown, according to a new report from
IDC
. The market researcher says these products are not only selling well to carriers right now, but the market for them will show a compound annual growth rate of 42.7 percent for the next several years.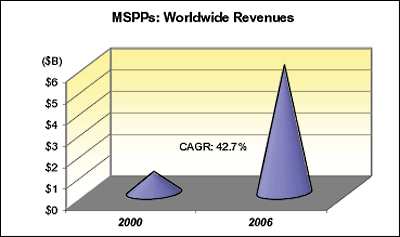 "This is a market that will continue to grow despite the economic slowdown," says IDC analyst Sterling Perrin, who coauthored the report. He says the popularity of MSPPs has grown among incumbent carriers seeking to introduce new services quickly without giving up the use of their existing Sonet infrastructures.
According to IDC, MSPPs are flexible network edge devices that that blend data networking functions in one box, including "Sonet multiplexers, DWDM terminals, distributed digital cross connects, Layer 2 switches, and IP routers."
By furnishing setup and control between Sonet and next-generation network connections, MSPPs streamline an otherwise costly and time-consuming process, IDC says. Without MSPPs, new services would require a complicated series of maneuvers involving multiple manual adjustments to the Sonet network, as well as to multiple crossconnects, IP switches, and routers.
In IDC's view, the majority of MSPPs on the market today don't yet pack all of the capabilities listed above, but instead comprise metro Sonet switches with the ability to map data into a variety of interfaces, such as high-speed Ethernet.
Due to the relatively small number of products now available, IDC says the market is currently dominated by a handful of players, even though plenty of gear is in development.
Last year, for instance, sales of the ONS 15454 from
Cisco Systems Inc.
(Nasdaq: CSCO) and the Optera 3500 from
Nortel Networks Corp.
(NYSE/Toronto: NT) accounted for the lion's share of MSPP revenues worldwide, IDC says.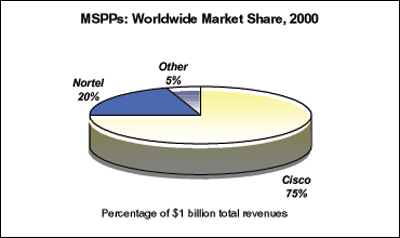 Another 5 percent came largely from sales of the 2400 ADX from
Fujitsu Network Communications Inc.
and the SmartEdge series from
Redback Networks Inc.
(Nasdaq: RBAK). IDC doesn't have finalized marketshare data yet for 2001. But Perrin says early results show significant sales materializing for the MetroDirector K2 platform from
Ciena Corp.
(Nasdaq: CIEN).
(NOTE:
Light Reading
has its own definition and taxonomy of MSPPs that predates and is unrelated to IDC's -- see
Multiservice Provisioning Platforms
.)
— Mary Jander, Senior Editor,
Light Reading
http://www.lightreading.com
EDUCATIONAL RESOURCES



PARTNER PERSPECTIVES
- content from our sponsors