Report: IDS Takes Flight

Comment (0)
With SQL Slammer worms on the loose, orange alerts blinking, and war looming, it should come as no surprise that companies are investing in more than duct tape to secure their businesses. According to two new
Infonetics Research Inc.
reports out this week, network security spending continues to soar (see
IDS Revenue Hit $382M in 2002
and
VPN/Firewall Market Still Growing
).
The reports show that spending on both more traditional security technologies -- such as firewalls and virtual private networks (VPNs) -- and emerging technologies -- such as intrusion detection and prevention (IDS and IPS) -- picked up significantly last year and should continue the upward climb in years to come. IDS and IPS especially will catch on at an explosive pace, according to Infonetics analyst and author of the report Jeff Wilson.
"Intrusion detection and prevention appliances are moving from being niche security technologies… to the mainstream," he says, pointing out that, much like the development of firewalls between 1995 and 2001, the devices are becoming less expensive to buy, maintain and operate. "That's what's going to break the market open."
While IDS and IPS product revenues reached $382 million last year, the Infonetics report forecasts that they will more than quadruple to $1.6 billion by 2006. Intrusion prevention technologies will be the main driver for the explosive growth going forward, but at the moment, companies are still a bit hesitant to jump onto the IPS bandwagon, according to Wilson. "As we're in the middle of the technology transition [from detection to prevention], no one really knows what to do."
In the report, Infonetics forecasts growth in the standalone IDS and IPS product market, but it sees the overriding trend to be integration of the new technologies into existing firewall products. "Eventually, they're going to overlap with firewalls," Wilson says.
While North America today accounts for 62 percent of all IDS/IPS product revenues, the report states that other markets will eat into the U.S. market share going forward. Asia/Pacific, which today accounts for 16 percent of the market, is growing the fastest, the report says.
For the fourth quarter of 2002, the Infonetics report shows that network-based IDS and IPS hardware accounted for nearly half of all the revenues in the sector, compared with 29 percent for host-based products and 23 percent for network-based IDS/IPS software. And moving forward, the report predicts that the hardware portion of the market will grow even stronger, with an annual growth rate of 65 percent through 2006. "The hardware market will see dramatic growth," Wilson says. "[Customers are] going to want hardware. They're going to want boxes."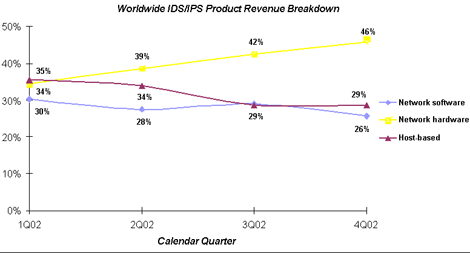 Hardware-based appliances will also be the fad in the firewall and VPN markets, which the Infonetics report expects will rake in $5 billion by 2006, up from $2.7 billion in revenues today. "The firewall and VPN market is still going," Wilson says. "It's like the Energizer bunny. It's growing real steadily quarter-over-quarter."
The VPN and firewall software markets are forecast to be flat this year, but the Infonetics report expects them to shrink dramatically by 2006. And as hardware gradually replaces software as the security vehicle of choice, hardware vendors are outpacing software giants such as
Check Point Software Technologies Ltd.
(Nasdaq: CHKP). "Look at how
NetScreen Technologies Inc.
[Nasdaq: NSCN] has grown, compared to Check Point," Wilson says, pointing out that hardware-vendor NetScreen has shown the fastest revenue growth in the space. "Everyone wants hardware."
The only thing keeping the software market afloat today is the strategy by vendors such as Check Point to partner with hardware vendors. According to the report, however, this strategy can't last forever, and some software vendors, such as
Internet Security Systems Inc.
(Nasdaq: ISSX), are already contemplating moving into hardware production themselves.
— Eugénie Larson, Reporter,
Light Reading
EDUCATIONAL RESOURCES


PARTNER PERSPECTIVES
- content from our sponsors
GUEST PERSPECTIVES
- curated contributions