While the market for optical networking equipment has sustained major body blows this year, one small segment of that market has shown only minor injuries: software.

So says a new report from Communications Industry Researchers Inc., which estimates that total U.S. sales of optical network management software will be roughly $2.5 billion this year -- about half of all network management software sold to carriers in the U.S. Overall, that represents a decrease of just 9 percent from last year -- a relatively small loss compared with the greater-than-30-percent reduction in optical equipment spending estimated by most analysts.

And the market's expected to grow, albeit modestly. CIR estimates that by 2006, software to manage optical equipment will account for $3.6 billion in annual sales in the U.S., and it will be on the verge of a major growth spurt, as carriers start investing in network improvements.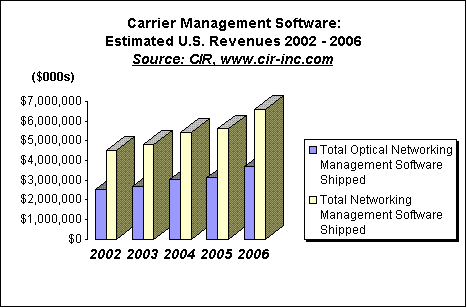 According to the report, U.S. carriers may not buy much new optical networking gear this year, but they'll shell out 20 percent of what they paid for existing equipment to renew the software that manages it in their networks. This includes software to provision, find faults, secure, and track the performance of DWDM, Sonet, and optical switching equipment.

The market identified here pertains to management hardware devices, along with services management and carrier operations based on those devices. It does not include the larger, more stable market of operations support systems (OSS) software (see Billing Software Market Worth $30B? and RHK's Fat OSS).

Growth in the optical net management segment will help several suppliers, according to CIR. Ongoing license renewals for net management software will continue to bring small software revenues to vendors such as Lucent Technologies Inc. (NYSE: LU) and Nortel Networks Corp. (NYSE/Toronto: NT), even as their equipment revenues suffer.

The optical net management software market will also continue to benefit a handful of key independent software vendors (ISVs), including Telcordia Technologies Inc. and the carrier management software section of Hewlett-Packard Co. (NYSE: HPQ). ISVs like these specialize in software systems that bring together multiple element management systems designed to handle a single vendor's devices.

Indeed, Telcordia's process of certifying hardware vendors' compatibility with its management software isn't likely to disappear anytime soon. "The process moves fees from the carriers to the equipment suppliers," says senior CIR senior analyst Ian McPherson. Carriers like that kind of insulation, even though the cost of getting certified by Telcordia represents a hardship for equipment makers large and small.

This year alone, revenues to ISVs will comprise roughly 39 percent of total U.S. sales for the segment, CIR estimates. This level is expected to hold steady and even increase over time, as ISVs get involved in helping carriers centrally manage a growing roster of disparate networking devices.
While there's growth across all segments of optical net management software, some types will likely feature greater sales as networks get more sophisticated. CIR's McPherson says performance management software, which tracks the health of network devices running in a network, is set to grow faster than other kinds of management software.

"As carriers adopt dynamic protection schemes, such as mesh restoration, they're going to require better information about the status of all network devices," he says. After all, if a DWDM box or an optical add/drop multiplexer fails, it reduces the value of a mesh restoral scheme.

— Mary Jander, Senior Editor, Light Reading
http://www.lightreading.com