Major service providers are set to splash some serious cash on VOIP equipment in the next few years, with the annual capital expenditure (capex) outlay on such equipment rising fourfold from $1.2 billion last year to $4.8 billion in 2007, according to projections by Infonetics Research Inc. (see Infonetics: Carrier Migration Fueling VOIP).

Its analysts reckon carriers are moving on from just talking about the potential of packetized voice to actually spending serious money on VOIP infrastructure.

Their plans to replace legacy gear with next-generation equipment are "the most grounded in reality we've seen," according to directing analyst Kevin Mitchell, and they are taking serious steps to act on them.

One recent example of this move from slideware to hardware can be seen at KPN Telecom NV (NYSE: KPN). The Dutch national carrier is sourcing the systems and services it needs to deliver VOIP services to its business customers from Lucent Technologies Inc. (NYSE: LU) in what is a "multi-million Euros contract," according to the vendor (see Lucent Helps KPN).

The KPN deal also highlights the importance of being the incumbent voice switch supplier: KPN's POTS network is based on Lucent's 5ESSR switches.

So what does Infonetics see in its crystal ball?

"It's definitely going to be a long-term investment cycle," says Mitchell, noting that a shift away from TDM equipment will free up more cash to spend on packet technology and provide the opportunity to roll out new revenue-generating services.

And nearly all the 32 carriers surveyed by Infonetics are heading down the same path, as 30 of them say they'll offer hosted IP voice services in 2005. These services include unified messaging, VOIP virtual private networks (VPNs), and audio conferencing.

In addition, 24 of the surveyed operators will also offer IP trunking for legacy TDM PBXs and managed IP PBXs, so that all bases are covered (see chart below).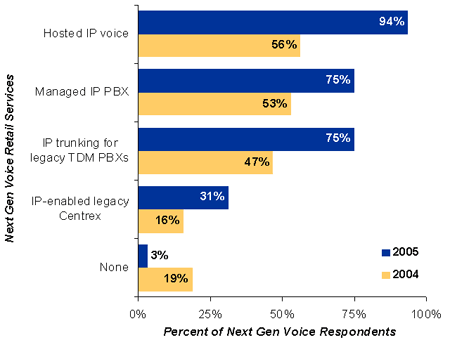 So what sort of systems will attract the lion's share of the operators' cash? Mitchell says spending patterns will change as the carriers start to deliver their new services. Media gateways and softswitches, the core building blocks, make up 90 percent of current investments, with the remaining 10 percent being spent on the systems more closely tied to end-user service delivery, such as voice applications servers and session controllers.

But that ratio will shift towards a more even distribution of expenditure as services ramp up, says Mitchell, "because of the disaggregated nature of the VOIP market."

This ramp up in VOIP gear spending coincides with a general upturn in operator capex. Carrier spending fell 7 percent in 2003, but is expected to grow 4 percent this year, according to Infonetics' projections. Carriers are now more focused on operational expenditure (opex) and view VOIP as a strategic investment that will reduce costs in the long term, according to Mitchell and crew.

— Nicole Willing, Reporter, Light Reading


---
For more on this topic, check out:
---
For further education, visit the archives of related Light Reading Webinars: