Anybody who's ridden the plummeting spiral of bandwidth prices might be asking: Where does it end?

The answer: 2005, when the rate of falling bandwidth pricing stabilizes, bankrupt carrier assets have been weeded out, and carriers actually contemplate increasing capital spending budgets as their revenues start to rebound. This process is already well underway.

That's the conclusion of Bandwidth Price Revolution, the latest issue of Light Reading Insider, Light Reading's paid subscription research service.

Taken in a historical context, the massive bandwidth glut has something in common with all technology revolutions: The early stages are characterized by oversupplies and bubbles. The second phase, which comes after the initial glut is worked off, is characterized by a new round of innovation and growth.

The new report concludes that the second stage of the boom is likely to warm up in 2005 as the bandwidth/capital spending cycle begins its turn. At that point, carriers will have started ramping new services that take advantage of cheap bandwidth.

The most successful carriers will be those that move into Ethernet-based data services and successfully market new services tied to the bandwidth delivered by Ethernet connections. In the short term, such moves are proving painful, but they will pay off in the long run.

One of the winners may be AT&T Corp. (NYSE: T), which is taking a hit now because it's making some decisive moves into a multiservice network that can handle new data services.

Sure, AT&T's revenues have fallen for 15 straight quarters, nearly four years in a row. And, sure, the stock price has taken a beating second to none.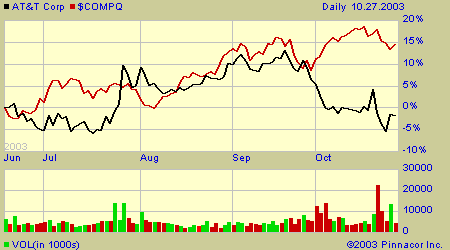 But AT&T has an edge in that it has stabilized profits and cash flow, while at the same time aggressively embracing metro Ethernet services. AT&T is trying to emerge as a leader in the corporate data services market. And it's trading at a modest multiple of only four times sales, making it an attractive target for somebody looking for a multiservice newtork.

The report points out the the recent mauling of core bandwidth providers shows that metro data services look to be the savior, while wholesale optical circuits clearly are not.

One brief example of a company that helped create the bandwidth glut (and did nothing to profit from it): During the Internet bubble, 360networks Inc. spent nearly $1 billion to build a network that carried 192 Gbit/s in capacity. In the end, 360networks alone could have carried all of the traffic on the Internet. After spiraling into bankruptcy, its assets were sold at a tiny fraction of their original build cost. What about those telecom assets? They're being sorted out, more quickly than it seems. A recent shuffling of debt and assets has started to put the sector back on track. In fact, the Insider details some 18 transactions that have occurred over the last two years.

One example in the asset pick-up category: Corvis Corp. (Nasdaq: CORV), through a controlled company, picked up Broadwing's network from Cincinnati Bell in June for $91 million, a fraction of the estimated $2.1 billion spent to build the network in the first place.
Table 2: Recent Asset Transcations

Asset
Date
Acquirer
Seller
Amount of Transaction
Est. Cost of Building Asset
Broadwing Inc.
June 2003
CII Communications LLC (controlled by Corvis Corp.)
Cincinnati Bell
$91M
$2.1B
Exodus Communications Inc.
Dec. 2001
Cable & Wireless PLC
Exodus
$850M
$2.3B
FLAG Telecom Holdings Ltd.
Oct. 2003
Reliance Infocomm Ltd.
FLAG
$207M
$1.2B to $1.6B
Genuity Inc.
Feb. 2003
Level 3 Communications Inc.
Genuity
$60M
$3.2B
Source: Light Reading Insider



In addition to a full overview of bandwidth pricing trends, the report also includes a straightforward financial analysis of several carriers as a way of looking at which ones are best coping with falling prices. The companies profiled include: AT&T, BellSouth Corp. (NYSE: BLS); Qwest Communications International Inc. (NYSE: Q); SBC Communications Inc. (NYSE: SBC); Sprint Corp. (NYSE: FON); and Verizon Communications Inc. (NYSE: VZ). — Phil Harvey, Senior Editor, Light Reading

The current Light Reading Insider report – Bandwidth Price Revolution – is available here. A single-user license to the report is $400. An annual single-user subscription to the Insider, which includes access to the complete archives, the current report, and each of the monthly reports issued over the next 12 months, is available for $1,250 per year.