Shares of Radisys Corp. (Nasdaq: RSYS) jumped 20 percent this morning as the company turned in a reasonably good earnings report, partly due to a boost in its AdvancedTCA (ATCA) business.

While that doesn't usually merit a 20 percent hike, investors needed something to cheer about, as RadiSys's stock has been on the decline for months. In fact, the stock dropped by 10 percent in the final hour of trading yesterday, just before RadiSys announced earnings.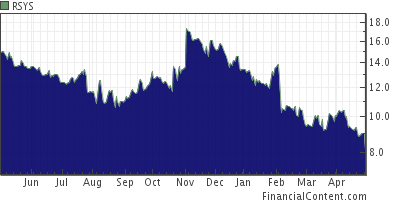 But RadiSys surprised investors. For its first quarter, which ended March 31, the company broke even, reporting pro forma profits of around $100,000, which rounds off to zero cents per share. Analysts had expected a loss of 1 cent per share, according to Thomson Financial . (See Radisys Reports Q1.)

The company's shares were up $1.68 (20.7%) at $9.79 in midday trading.

"Expectations had become pretty low," says Andrew Spinola, an analyst with Needham & Co. . "You're seeing the reversal of a lot of what happened yesterday, and it'll be interesting to see if it sticks."

By generally accepted accounting principles, RadiSys is still in the red. The company reported losses of $6.3 million, 28 cents per share, on revenues of $86 million, compared with losses of $2.4 million, 11 cents, on revenues of $99.2 million the previous quarter.

For its first quarter a year ago, RadiSys reported losses of $5.4 million, 25 cents per share, on revenues of $66.9 million.

RadiSys is predicting second-quarter revenues of $86 million to $94 million. But its overall outlook into 2009 was milder than Spinola was expecting; he's lowered his target price on the stock to $13.50 from $15.

RadiSys, whose other businesses include medical imaging, test equipment, and (why, God, why) music-on-hold gear, is getting a boost from the acquisition of the Intel Corp. (Nasdaq: INTC) ATCA business, which closed during the quarter. (See RadiSys, Intel Deal and Whatever Happened to ATCA?.)

(While RadiSys bought Intel's modular platform division, an Intel-designed ATCA blade, called Thermopolis, remains in the hands of Diversified Technology Inc. -- see DTI Gets ATCA Exclusive.)

With that purchase, RadiSys picked up Fujitsu Network Communications Inc. as one of its top five customers. Its biggest customer remains Nokia Networks , which represented 39 percent of RadiSys's first-quarter sales.

ATCA in general is starting to get some pickup, particularly in the wireless market, which RadiSys singled out as being strong. The technology is still expected to become a critical piece for telecom equipment providers in the long term. (See ATCA Success: Moore Proof.)

RadiSys scored a 10-Gbit/s ATCA win in the wireless sector, as a new customer installed gear into its live network during the quarter. During yesterday's conference call with analysts, CEO Scott Grout held it up as an example of how ATCA standards can speed the development of equipment.

"I believe that they chose our ATCA platform in spring of last year (the March/April timeframe), did a pretty significant development, and actually had it up live in the network at the beginning of the year. That's a nine-month interval for something that would normally take 24 or 36 months," he said.

― Craig Matsumoto, West Coast Editor, Light Reading


---
Interested in learning more on this topic? Then come to ATCA, AMC & MicroTCA: Off-the-Shelf Platforms for the Converged IP Network, which will bring attendees up to date on the latest developments from all levels in the AdvancedTCA supply chain -- from component and middleware vendors to system integrators, equipment vendors, and carriers. To be staged in San Jose, Calif., May 8, admission is free for attendees meeting our prequalification criteria. For more information, or to register, click here.


---