Startup Polaris Networks came out of stealth mode today to tell the world that it's developing a switch to replace a whole bunch of different pieces of equipment in a carrier's central office or point of presence (see Polaris Announces Metro Switch).

Yes. Amazing though it may seem, Polaris is developing a "God box," a concept that's become deeply unfashionable, not to mention unsuccessful, in the past year or so (see God is Dead). A notable example of this is Tachion Networks, whose "Collapsed Central Office" idea appears to have gone sour (see Crunch Time at Tachion).

Polaris certainly isn't trying to be another Tachion (although a couple of its senior managers hail from there). It's making a box that combines the functions of a different set of equipment -- an optical switch and a core router and an ATM switch and a bunch of add/drop multiplexers and DWDM (dense wavelength-division multiplexing) gear, to be precise.

But the same arguments against God boxes still apply.

In particular, God boxes are more appropriate for startup carriers that don't already have equipment that might be duplicated by them -- and of course, the equipment market for startup carriers is in the doldrums right now.

Moreover, there's a danger that equipment that aims to do a lot of things, like Polaris's switch, might do none of them particularly well.

Still, Polaris claims it's got some unique technology that'll help its switch become an exception to the rule. Specifically, its switch is "programmable" -- which enables Polaris to simplify carrier networks and use bandwidth more efficiently, without risking quality problems.

There are plenty of reasons for taking Polaris's claims seriously.

For a kickoff, Ray Kao, Polaris's CEO and CTO, was the chief architect of Stratacom's switch, which gave Cisco Systems Inc. (Nasdaq: CSCO) its entrée into the service provider market. Vu Nguyen, Polaris's president and VP of engineering, also worked at Stratacom and led the development of Cisco's MGX8850 multiservice switch.

Polaris's financial backers also have good pedigrees. Its $22 million first round came from Redpoint Ventures, Storm Ventures (where Dick Moley, Stratacom's old CEO, hangs out), and Venrock Associates.

Wu-Fu Chen is also a board member and investor in Polaris, even though he pooh-poohed God boxes in an interview with Light Reading last year.

So, what's got the old Stratacom gang and Wu-Fu Chen so excited? Let's dig into some details:

Polaris's switch acts as a node on an optical backbone, setting up and tearing down wavelengths to other nodes in response to GMPLS (generalized multiprotocol label switching) signaling. (Sighing over folk pinning so many hopes on GMPLS is optional here.)

Initially, the switch will have an electrical switching fabric, but the plan is to add an all-optical core by the second quarter of 2002, according to Sab Gosal, Polaris's director of product marketing.

In some respects, this aspect of Polaris's switch is like the CoreDirector from Ciena Corp. (Nasdaq: CIEN), except that the CoreDirector only handles circuits -- and only in STS1 (51.84 Mbit/s) increments. Polaris is aiming to handle VT1.5 (1.7 Mbit/s) increments.

That's just for starters. Polaris's switch also aims to pack packets and cells, as well as circuits, into wavelengths in their native formats.

The key word here is native. Switches that already handle this combination of traffic don't do this, according to Gosal. Some of them handle circuits exclusively and shunt packets and cells onto these circuits, which wastes bandwidth. Others do the opposite, handling packets or cells exclusively and synchronizing them to emulate circuits -- something that leads to jitter (read "quality problems") on high-speed optical backbones, according to Gosal.

Polaris says it won't do either of these things. Its switch will handle cells as cells, packets as packets, and circuits as circuits, full stop. Its ability to do this comes from developing its "programmable switch" that can be configured to handle different types of traffic simultaneously in their native formats.

This programmable switch comprises custom ASICs (application-specific integrated circuits) loaded with microcode. The microcode was developed by Polaris and represents the startup's key intellectual property, according to Gosal.

Development of the ASICs has been outsourced to an unidentified supplier. The chances are that it's ZettaCom Inc., which happens to have a couple of the same investors as Polaris -- Venrock and Wu-Fu Chen (see Zettacom Set to Score $47.5M).

One of the upshots of this is that Polaris only needs one line card for its switch because the card's software can be reconfigured to handle ATM, IP, TDM, gigabit Ethernet, or whatever. Normally, each traffic type would need a different card, something that ends up creating inventory problems for carriers. In fact, the whole switch only comprises four elements: the chassis, a controller card, a reconfigurable line card, and a switching card.

Gosal says that Polaris has bought in software stacks to support different protocols, which goes some way to explaining how it's managed to achieve so much in such a short time. It was launched only a year ago, in June 2000, and expects to start beta trials in the fourth quarter of this year. It has 90 on staff at present.

It's worth pointing out that off-the-shelf software stacks rarely can match the performance of code that's been designed and refined with specific hardware in mind -- sometimes by armies of software engineers at a big equipment manufacturer.

Polaris says the programmability of its switch enables it to replace a whole room full of equipment in a carrier's POP, including add/drop multiplexers, core routers, and ATM switches, in addition to optical switches and DWDM multiplexing equipment.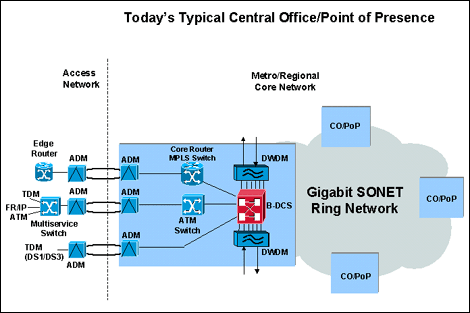 So, who does Polaris compete with? In some respects, it competes with the likes of Équipe Communications Corp., Tenor Networks Inc., and Vivace Networks, which have switches that aim to funnel different types of traffic on and off optical backbones. However, these boxes don't actually form part of the optical backbone itself, in the way the Polaris switch does.

Mind you, that could be a mixed blessing for Polaris. A lot of incumbent operators have separate divisions handling transport and services. Those folk simply won't buy a switch that spans this divide because it creates too many political problems related to questions such as who will manage and maintain such equipment.

— Peter Heywood, Founding Editor, Light Reading
http://www.lightreading.com