Nokia Corp. (NYSE: NOK) unveiled a wide range of new products at its Mobile Internet Conference in Munich on Monday -- which sets it up for a strong 2003, it would seem (see Nokia Launches 9).

"If Nokia can deliver this lineup in the first half of 2003, it is going to be very well positioned for the year," says Gartner/Dataquest senior mobile analyst Ben Wood, "especially when compared with Motorola's plans." (See Motorola: Next Year's Models?.)

The danger for the handset market leader is that it may consider itself to be untouchable, and unthreatened by other device manufacturers such as Sharp Electronics Corp. and Matsushita Communication Industrial Co. Ltd. (which markets its handsets under the Panasonic brand). Talking to Unstrung at the Munich event, Nokia Mobile Phones vice president of communications Kari Tuutti, previously part of the company's investor relations team, said Nokia was warned in the late 1980s that Asian handset firms were about to become the strongest players and sideline the European and North American manufacturers. He said it didn't happen then, and there is no reason why Nokia should now feel its position and market share to be under any threat (see Nokia Extends Handset Share). Gartner's Wood suggests that such an outlook could be dangerous. "Look what happened to Motorola. It used to be the market leader," he recalls.

So what do Nokia's new devices look like, and what do they cost. Here is the lineup with the prices in euros that Nokia believes they could sell for in retail outlets before tax or any subsidies, and taking into account that prices can vary from territory to territory, so this is quite a rough guide but gives a flavor of possible pricing (today €1 is almost exactly $1).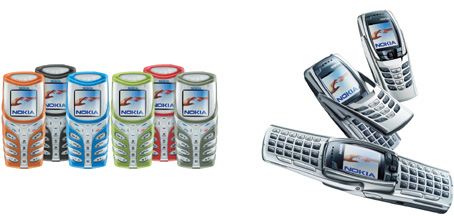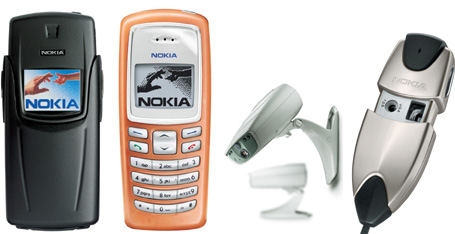 Quite an array! "It's an impressive lineup of products," says Wood. "It's innovative, though there are some signs that maybe Nokia is totally determined that it always has to do something different from the other vendors. For instance, Nokia looks like it wants to avoid the clamshell design [deployed by Asian vendors such as NEC Corp. (Nasdaq: NIPNY) and Sharp] at all costs. That may not be an issue in the European marketplace, but it could be an issue in Asia, where that design is very popular."

Wood is intrigued by the games-specific device, the N-Gage. This was shown at the Munich event, but Nokia says there are no further details available until February. The little that was revealed by Nokia Mobile Phones executive vice president Anssi Vanjoki was that the device includes Bluetooth, and this will allow users to interact and play games against each other when in close proximity. It will also allow gaming across wide area networks, such as GPRS. In addition, "Nokia is going to become a games publisher," proclaimed Vanjoki, "with physical distribution of games in memory cards."

"This is a very interesting departure for Nokia, and a clear indication that it is seeking to diversify its revenue sources. It will be interesting to see, given all its talk about openness [see We're Open – But Not to Microsoft], which memory card Nokia will use, and whether it will use a proprietary DRM [digital rights management system]," says Wood (see Take the Slow Train to MMS for more on DRM). "The pricing will be interesting too. I wouldn't be surprised if Nokia didn't adopt the same approach as Sony does with its Playstation, where it makes no money from the physical console but makes the money from the software, the games. This could be the revenue model here."

Of the more regular handsets, Wood was particularly interested in the 2100 model, which has a suggested price of €100 to €150. "This is a market share tool that will deliver low margins to Nokia. It's going to be interesting to do a cost analysis of how it has built that handset. It must be going out of the factory door at about €50 or so per unit. That's a staggering achievement," says Wood. He also rates the 6800 model: "A staggering design, the most innovative we have seen from Nokia for some time."

— Ray Le Maistre, European Editor, Unstrung
www.unstrung.com