Huawei Technologies Co. Ltd. held its first Mobile User Congress July 8 in Munich, for existing and prospective customers, and Unstrung was there. (See Huawei: Everyone Believes in Us.)

The event was co-hosted with Huawei customer Telefónica O2 Germany GmbH & Co. OHG . The operator's VP of network development, Reinhard Herr, said such a gathering was "helpful to share experiences and understand the roadmap of the vendor." (See O2 Germany Turns On DPI.)

But the animated discussions in many different languages during the coffee breaks suggested that there was also some serious selling going on. [Ed note: But maybe they were just talking about German beer or football.]

On Huawei's "road to convergence" -- as the event was dubbed -- mobile broadband networks all merge into the vendor's SingleRAN, its software-defined radio (SDR) multi-mode, multi-band radio access portfolio.

"The network is too complicated," said Biao Wan, president of Huawei's wireless product line. "There is too much equipment, so power consumption is huge... and bandwidth is limited."

Huawei aims to simplify all that with a single base station platform that will support all access technologies whether GSM, UMTS, or Long Term Evolution (LTE). (See Huawei Adds to SingleRAN.)

While we were there, we took some photos of our day with Huawei. Click the image below to see them all.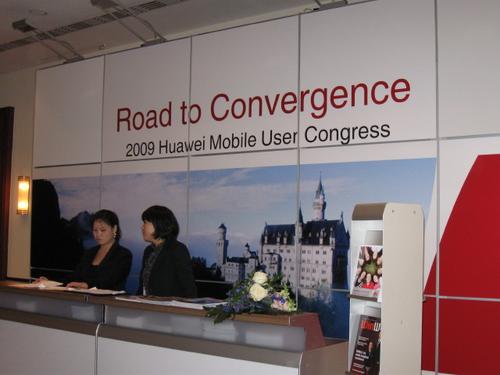 — Michelle Donegan, European Editor, Unstrung