The price of wireless LAN switch networking kit is likely to fall dramatically over the next few months as startups and incumbents discover what the market will actually pay for this new class of 802.11 enterprise equipment, according to the latest edition of the Unstrung Insider monthly research report.

According to the latest report -- Wireless LAN Switches: The Market Makers -- vendors are keeping the combined price of a switch port and a wireless point, which work together in tandem, with the switch acting as the brain for the "lightweight" access point, at around the same level as a customer would pay for a standalone Cisco Systems Inc. (Nasdaq: CSCO) access point.

The report finds that the current average combined price of an access point and switch port is $885, a figure similar in price to an enterprise-class access point. Cisco's Aironet 1200 802.11a (54-Mbit/s over 5GHz) access point, for example, retails for around $900.

"Switch vendors appear to be using market-leading Cisco as the benchmark for their pricing," says the report's author, Gabriel Brown. "Vendors are determining what price the market will support, with the full expectation that prices will come down. We expect prices in the market to fall dramatically in the next few quarters."

The report is the first of its kind to compare the number of ports or access points that each vendor's switch can support, and provide an analysis of the related costs.

"Vendors prefer to market the 'unique features' of their wireless systems, but given that all vendors should (and do) support a similar set of base services, price per port is perhaps the biggest differentiator between wireless switch products," comments Brown.

The graph below shows that, while prices vary, the average combined price of an access point and switch port is just under $900.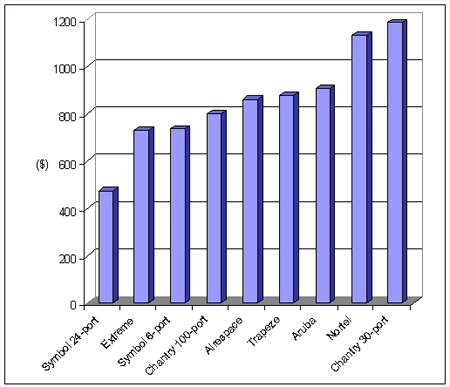 However, Brown notes that it is virtually impossible to do a like-for-like product comparison of the wireless switches on the market today because each product ships with a mixture of standard and optional features. "No solution is identical. Some vendors, for example, charge extra for security features."

The list prices of these products may also bear little resemblance to the prices that customers will end up paying. "Aside from the obligatory discount typically offered on networking equipment by resellers and channel partners (normally between 30 and 40 percent off list price), there is the speculative element to the prices that have been announced," notes Brown.

— Justin Springham, Senior Editor, Europe, Unstrung

The full report -- Wireless LAN Switches: The Market Makers -- costs $400. An annual subscription to the Insider is ordinarily $1,250, but is currently available at the special introductory price of $899. For more information, including subscription information and research examples, go to: Unstrung Insider.