Path 1 Network Technologies Inc. (AMEX: PNO) raised $13.5 million today in an offering of common stock and warrants, as it debuted on the American Stock Exchange.

The upstart video-over-IP company is among a handful of high-tech firms braving the IPO market, which has become a fearful post-boom proving ground. Indeed, Path 1's emergence on the Amex could be a beacon for others looking to test whether the economic waters can sustain a public plunge (see Path 1 Takes a Public Chance).

The jury may still be out. Several hours after Path 1 CEO Fred Cary rang the opening bell on the Amex today, Path 1 shares were trading at $3.68, down $0.07 (1.87%).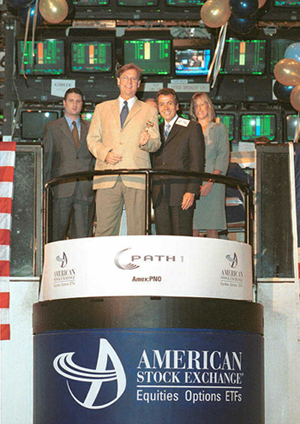 Still, a share price like that is certainly respectable these days, and the drop is well within the commonplace for a tough day's trading.

Technically, Path 1's emergence on Amex is a secondary public offering, not an initial one. In the past, the company quietly went public by selling its equity to selected investors. Its activity on the bulletin board and the Frankfurt Exchange was lackluster, though, and execs were keen to join the big time.

"We're frankly ecstatic to be on Amex," says CFO John Zavoli. He says there are no plans to join other exchanges just yet. Path 1 plans to use the cash it's raised to develop its products and sales channels.

Path 1's offer included 1,250,000 units, each of which comprised three shares of common stock and two warrants to buy two more shares of stock. The units were priced at $10.80 apiece. The lead underwriter was Paulson Investment Co. Inc.

Path 1 wasn't the only company that went public today. Netgear Inc. (Nasdaq: NTGR), which makes wireless networking gear, raised a whopping $98 million in its IPO today. (Click here to read that story on our sister publication, Unstrung.)

— Mary Jander, Senior Editor, Light Reading