Paetec to Acquire McLeod for $492M
Paetec Communications Inc.
(Nasdaq: PAET) is acquiring Midwest telecom carrier
McLeodUSA Inc.
(Nasdaq: MCLD) for $492 million. Paetec will also be taking on McLeod's $65 million debt, bringing the total value of the transaction to $557 million. (See
Paetec Acquires McLeod
.)
Paetec says the acquisition of McLeod now makes it a legitimate competitor to
Verizon Communications Inc.
(NYSE: VZ) and
AT&T Inc.
(NYSE: T) in the enterprise market, as Paetec now has a nationwide footprint. The combined companies had revenues of $1.6 billion for the 12 months ended June 30.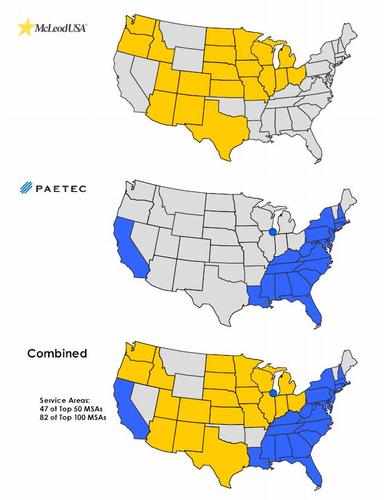 Verizon Business, by comparison, had $3.6 billion in revenue this past quarter alone while AT&T's enterprise revenues for the same quarter topped $8 billion.
"We consider AT&T and Verizon as our No. 1 competitor in the marketplace. This deal positions us perfectly to go up against them," says Chris Muller, a spokesman for Paetec.
Verizon and AT&T could not immediately be reached for comment.
Since the deal for McLeod is an all-stock transaction involving no cash, the assumption of McLeod's $65 million in debt does not badly damage the balance sheet, while the company's overall ratio of debt to EBITDA will go down from 3.9x to 2.9x.
Paetec has seen its stock rise 34 percent since the start of 2007, giving the company more flexibility to make acquisitions like this.
The deal comes at a time when McLeod was closing in on its second IPO, with which it hoped raise $100 million. (See
McLeod Looks for $100M in IPO
.) But the CLEC found that being rescued by Paetec was the better way to go.
"The IPO process was going well, but when Paetec approached with the offer, we saw it as a chance to achieve and magnify the objectives that we had in mind," says Dan Smith, a spokesman for McLeod.
Paetec's chairman and CEO, Arunas Chesonis, will remain in the top spot for the newly formed company. It has not been decided yet what role McLeod CEO Royce Holland will serve.
The transaction is expected to be completed in about four months.
— Raymond McConville, Reporter,
Light Reading
EDUCATIONAL RESOURCES


PARTNER PERSPECTIVES
- content from our sponsors