P2P Gets Serious

Comment (0)
Two significant developments in peer-to-peer (P2P) networking have come to light, courtesy of a new product announcement by
CacheLogic Ltd.
, a U.K. startup offering appliances to analyze and manage P2P traffic on ISP networks (see
CacheLogic Launches P2P Analyzer
).
First, another generation of protocols, headed by BitTorrent, has exploded onto the P2P scene this year, displacing older file sharing services such as KaZaA.
Second, powerful commercial applications for P2P technology are emerging. The companies that stand to reap the biggest benefits include those that are still struggling to stifle P2P because of its use in copyright pirating.


These developments have been identified in a global survey of P2P traffic patterns conducted between January and June of this year. The survey was organized by CacheLogic, which got a number of early customers (Tier 1 and 2 ISPs) to install its new appliance, the Streamsight 510, on their networks (more about the Streamsight 510 in a separate story).
The chart below shows how BitTorrent traffic has doubled, from 26 to 53 percent of the overall traffic surveyed between January and June of this year, according to CacheLogic's figures. FastTrack traffic (the protocol used by the KaZaA file sharing service) shrunk from 46 to 19 percent over the same time period.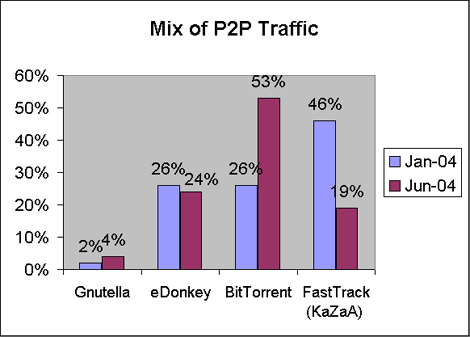 As noted, BitTorrent is leading a bunch of new-generation P2P protocols that use a process called swarming to distribute files. Under this scheme, the files are broken into pieces so that a user can download parts of, say, a movie, from multiple locations at the same time, which speeds things up.
A central directory tells the user's software where it can find the different bits of the file, but the user is forced to download the least prevalent piece of the file first, and to offer it for download by other users. In that way, many more people end up offering files for download than with older P2P protocols such as FastTrack, where many people download files but don't offer them to others.
The bottom line is that files become available for download more quickly, in addition to the downloads themselves being faster overall, even though they start slowly.
A growing number of companies are now beginning to realize that P2P systems such as BitTorrent could offer an inexpensive way of distributing large files, such as movies and software packages, to mass audiences. It's simply not practical to have everybody download such files from a central server, because the bandwidth requirements (and, hence, the cost) would be enormous. Chopping up the files and having customers pass them around among themselves until they've collected a full set, avoids this.
One example of this is the
British Broadcasting Corporation (BBC)
, which is conducting a trial among its staff of something called the "Interactive Media Player" using BitTorrent technology. The IMP enables users to download TV or radio programs and play them on their PCs for up to a week after they've been broadcast. It incorporates some digital rights management software that kills the file when it's a week old.
If the internal trial is considered a success, a public trial will start in August. The eventual service will be free of charge. One reason the BBC is doing this is so that it can stay in control of digital rights. If it didn't do it, then people might start recording and distributing TV programs illegally, says a BBC spokesperson.
Another example of companies using BitTorrent for commercial use is cited in a June 26 article by the
New Scientist
magazine. It says
Linspire
, a company selling a Linux-based alternative to Microsoft Windows, has halved the price of its software for people that download it over BitTorrent. The magazine article cites Linspire's CEO saying it's enabled the company to serve a lot more customers and slash its distribution costs.
The use of BitTorrent appears to have caught on fastest in the Asia/Pacific, according to the results of CacheLogic's survey, shown in the chart below.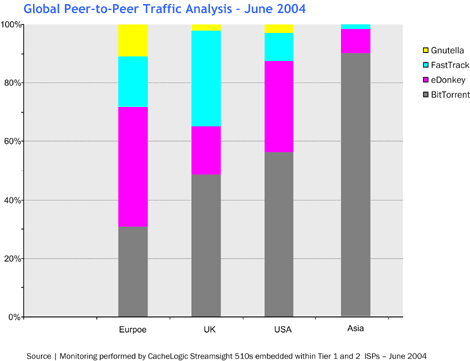 The Donkey rules in Europe, make of it what you will...
— Peter Heywood, Founding Editor,
Light Reading
As it happens,
Light Reading
is staging a Webinar entitled
Coming to Grips with Peer-to-Peer Traffic
at 2:00 p.m. New York time today. It will be archived on the
Light Reading
Website within the next few days.