Huge market research figures on telecom operations support systems (OSS) persist. The latest to surface, from research firm Dittberner Associates Inc. (DAI), puts worldwide revenues for 2002 at a whopping $44.4 billion (see Survey: OSS/BSS Is Hot and OSS Revenues Top $11.9B).

That's even bigger than the $33.6 billion cited by RHK Inc. last year – a figure that gave rise to some hilarity in the Light Reading camp at the time (see RHK's Fat OSS).

The huge figures, and the disparity between DAI and RHK's statistics, demonstrate a key point. The term OSS applies to everything that goes into the applications to run carrier networks, including billing, order entry, provisioning, and the actual management and configuration of network devices. It also includes big systems integration bills for making new software packages work with existing OSS systems. What is or isn't part of the OSS market is open to interpretation.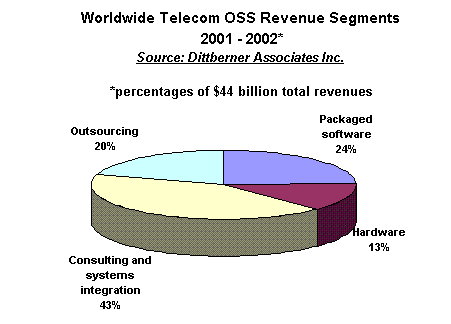 The overlap of software, hardware, and consulting that's required to keep customized OSSs running in carrier nets worldwide favors systems integrators, according to DAI president Donald Dittberner. Integrators took home $17.5 billion in 2002, compared with $12 billion for software vendors and $14.9 billion for hardware providers.

Dittberner says there's no sign that the market is getting any smaller, at least from his perspective: "Right now, carriers are very happy to pay [on OSSs]... it saves them costs in other areas and enables new services. They'll be spending more every year." Ultimately, he says, carriers are aiming to have systems that run themselves, without manual intervention.

Here are some other highlights cited by DAI:
Wireless and broadband networks are key to growth. By 2004, OSS software for wireless networks and for broadband nets (defined as high-speed data services) will outstrip OSS spending on traditional wireline voice and low-speed data services. In 2002, wireless and broadband applications combined accounted for 47 percent of all carrier OSS software. By 2008, DAI forecasts that figure will be 90 percent.


Revenues are divided across many vendors. Unlike other markets, OSS doesn't feature a lot of star players. Of the 25 top players identified as market leaders in the roughly $11.9 billion market for packaged software tracked by DAI between 2001 and 2002, no single vendor owned more than an 11 percent share. The top five included Amdocs Ltd. (NYSE: DOX), with 10.9 percent of the market, followed by Telcordia Technologies Inc. with 8.7 percent; SchlumbergerSema with 6.1 percent; and CSG Systems International Inc. (Nasdaq: CSGS) with 5 percent, according to DAI.


The Asia-Pacific region is on the rise. By 2008, DAI says carriers in the Asia-Pac region will account for 46 percent of the market in OSS spending. In 2002, that region accounted for about 32 percent; next year it will account for about 34 percent.


— Mary Jander, Senior Editor, Light Reading