The first independent sales numbers for Verizon Wireless 's iPhone 4 are in, albeit somewhat vague. Big Red sold "well over one million" of Apple Inc. (Nasdaq: AAPL)'s smartphone during the first weeks of availability in February, according to comScore Inc. .

comScore came to this conclusion after surveying over 10,000 mobile users, but the important question it raises is, how does that compare to AT&T Inc. (NYSE: T)'s first-month sales? Neither carrier has given exact figures, but both report their first-quarter earnings this month, along with Apple, perhaps shedding more light on sales.

When it comes to performance, AT&T may have taken the speed crown, but Verizon's iPhone 4 is winning on dropped calls, according to new analysis from ChangeWave. While AT&T's average dropped-call rate improved from 4.7 percent in December to 4.6 percent in March, Verizon's dropped from 1.7 percent to 1.4 percent, making it the lowest level of dropped calls ChangeWave has ever recorded.

The percent of dropped calls is a little higher for the iPhone in particular, with AT&T at a 4.8 percent dropped-call rate and Verizon at 1.8 percent, but the disparity between the two supports what many had been saying about congestion on AT&T's network. Of course, it's still early days for Verizon and the iPhone 4, so those numbers may change again.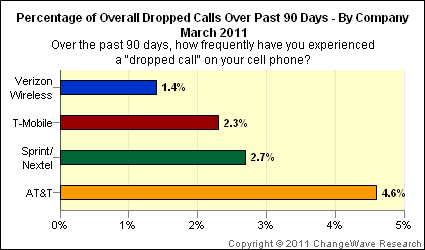 Either way, ChangeWave found the satisfaction levels to be similar for AT&T and Verizon iPhone 4 users. Of its respondents, 82 percent and 80 percent were "very satisfied" with Verizon and AT&T, respectively.


Frag Watch: Google (Nasdaq: GOOG) has come under fire for restricting Honeycomb access and supposedly moving away from its open roots, but VP of Engineering Andy Rubin reached out to developers this week to explain it isn't so.

He wrote in a blog post that "device makers are free to modify Android to customize any range of features for Android devices" and that Android continues "to be an open source platform and will continue releasing source code when it is ready."

Rubin also noted that Google has had an "anti-fragmentation" program in place since the first iteration of the OS, a program that it continues to support, along with all the Open Handset Alliance members, which agreed not to fragment Android when it was first announced in 2007.

"Our approach remains unchanged: there are no lock-downs or restrictions against customizing UIs," Rubin wrote in the blog. "There are not, and never have been, any efforts to standardize the platform on any single chipset architecture."


Android Takes Over (Half the) World: Luckily for Rubin, Android's quest for world domination is halfway done. Android smartphones will make up 49.2 percent of the 630 million sold next year, according to new research from Gartner Inc. . It will also surpass Symbian Ltd. for the first time by the end of 2011 when it grabs 38.5 percent market share (Symbian has only 19.2 percent market share).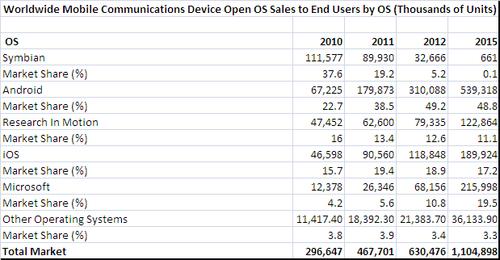 Overall, global smartphone sales are expected to top 468 million by the end of this year, a 57.7 percent climb over 2010.


When Will Symbian Die?: Gartner's report has sparked many to ask, when will Symbian shrivel up entirely? Gartner predicts that day will come by 2015, when it will have declined 100 percent from its 2010 figures.

Others, like David Chamberlain, principal analyst at Alloy Market Research, believe Symbian will still hold on to 23.9 percent of the market by 2015, although that's down from the 37.6 percent it had at the end of 2010 and way down from its 70 percent market share in its hay day. He believes Symbian will continue to find success with low-end devices for emerging markets, as well as benefit from the time it takes for Nokia Corp. (NYSE: NOK) to transition to Windows Phone 7. (See Symbian Is Dead. Long Live Windows Phone.)

— Sarah Reedy, Senior Reporter, Light Reading Mobile